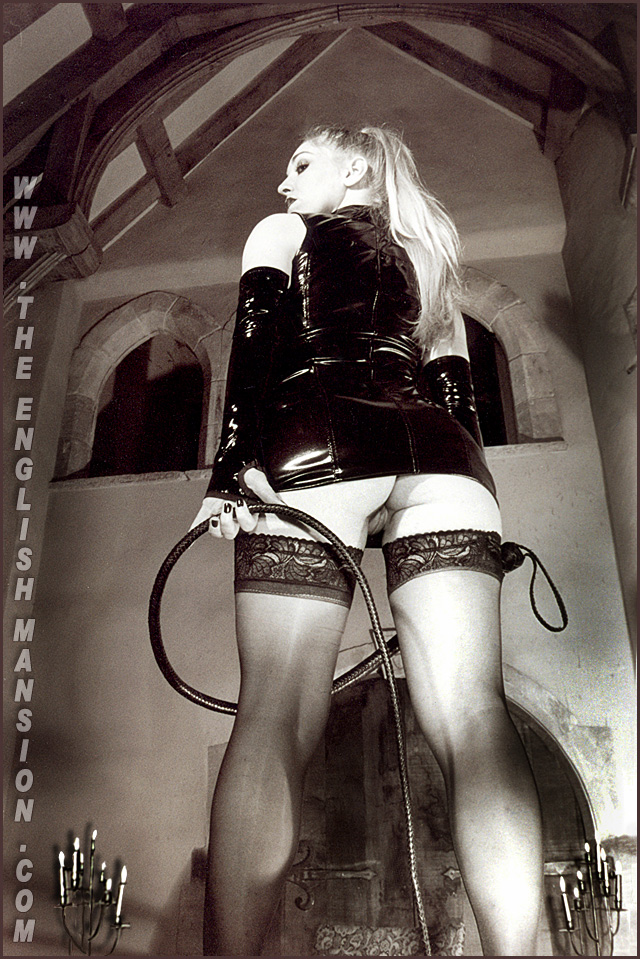 Slave Training Pt 2: Actualities
Some of the basics by Mistress Sidonia
Actualities
Slaves as Property
Owning a slave is a serious responsibility. A slave is valuable property and should be treated as such. I would never permanently damage any of my slaves. It would be pointless to damage something you own and value. A damaged slave cannot work effectively for you. As my property he is an asset. If I did become continually displeased or bored with a particular slave I would dismiss them or possibly pass them on to another dominant woman.
There are no safe-words in my domain. I decide what my slaves take. I decide everything. In accepting my collar, they have accepted that they are my valued property and that now the only control they have over our relationship is the power to leave. Once under my control, kneeling at my feet with a look of complete submission on their faces I often feel a sense of overwhelming affection for my slaves, especially those who are willing to completely immerse themselves into my world and who think only of pleasing me and my every whim.

Collaring
The slave collar is symbolic of a slave's submission. By accepting my collar he is demonstrating his total willingness to serve me. It's also a visible indication of his status in public situations, showing that the slave is presently 'owned' – literally collared, and that I, his Mistress, must be approached before any contact is made with him. I particularly like slave collars that lock and insist that slaves wear them at all times when serving me. Whilst being collared the slave should present himself in a manner that displays his submissiveness and obedience. A kneeling position with head bowed and eyes cast down. I love to keep a man as my tethered pet. There is something extremely erotic about being able to pull a head into the ideal position to pleasure you.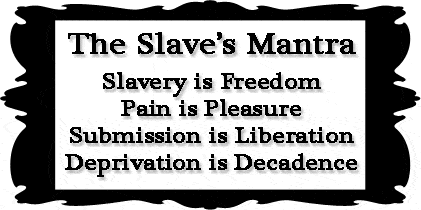 Symbols of Slavery
Contracted slaves are expected to wear some adornment or mark on their bodies identifying them as my property. Something they cannot remove. This symbol represents a deep and serious commitment and I never undertake them lightly. I have marked slaves with my initials or secret signs using brands, tattoos or cuttings. I have pierced genitals and nipples with rings. These circular rings are a particular favourite of mine as they both symbolise the 'O' of obedience and are also useful for attaching silver initials or small dog tags.
For slaves where permanent adornments or markings are not possible there are ornaments that can be worn, such as a simple steel finger ring, or a waist chain padlocked under clothes with a 'Property of' tag attached. I once had a bracelet made for one of my female slaves that once I had locked it onto her wrist could not be removed. The bracelet was engraved with my initials. These tokens and marks can act as solace for a slave when not in my presence as well as being a constant and private reminder for them of their true position in life.

To be continued…