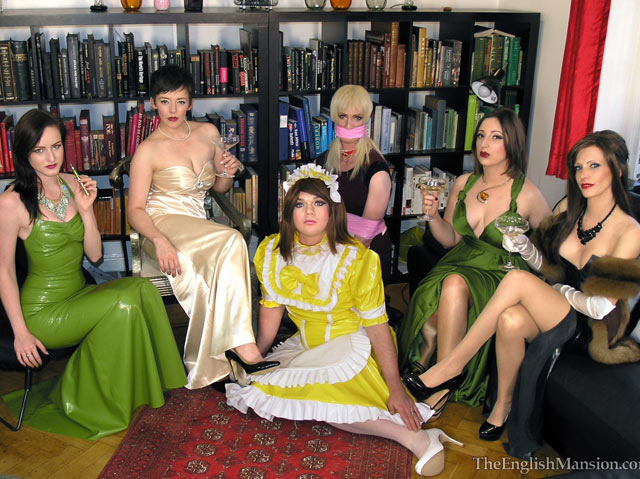 Pretty Maid Manor is an exclusive establishment where 'special girls' are transformed, fully-feminised and trained as Ladies' maids. With 3 maids now trained up to the exacting house standards, the Mistresses decide to advertise for a new crossdressing slave to add to their household.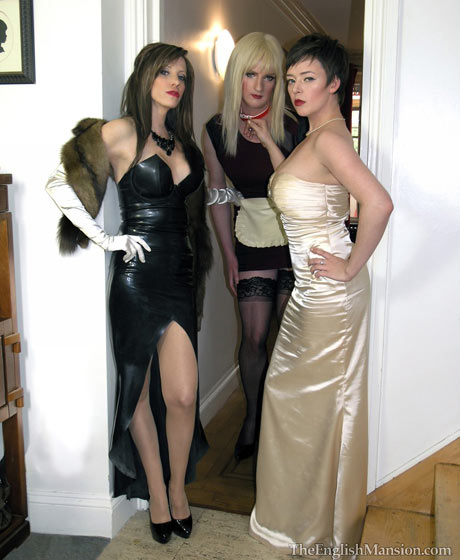 Once the work of the day is over and a new initiate has been taken on, the Ladies decide to enjoy the afternoon. Maid Jess, however, is in big trouble and is taken to the kitchen by Miss Kelly and Governess Ely. They are shocked by the mess she has left while preparing the ladies food and decide to exact an immediate punishment.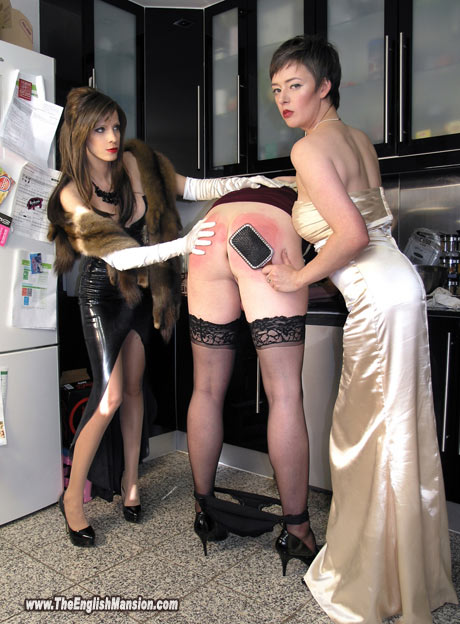 Maid Jess is a special project of Governess Ely who has been keeping her in longer and longer periods of enforced chastity.
She keeps the key for this chastity device on an ankle chain and makes Jess worship her shoes every morning.
This gives Jess a perfect up-close view of the key  reminding her of the absolute control Ely has over her.
Today though, she has displeased her Mistress and is going to be punished harshly along with the help of Goddess Mistress Kelly. First, she is warmed up with the hairbrush and paddle until her backside is nicely glowing, until it is time for 12 hard strokes of the cane in order to remind her of her maid duties and make sure she keeps the kitchen immaculate from now on.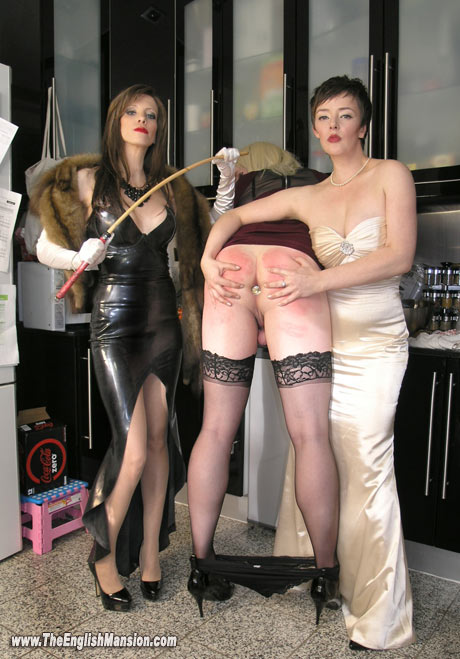 The punishment is all the worse, as earlier in the day all the maids were plugged as part of their 'special hole' stretching program, so Jess's muscles will be clenching hard around the plug as she receives each of her 12 strokes of the cane.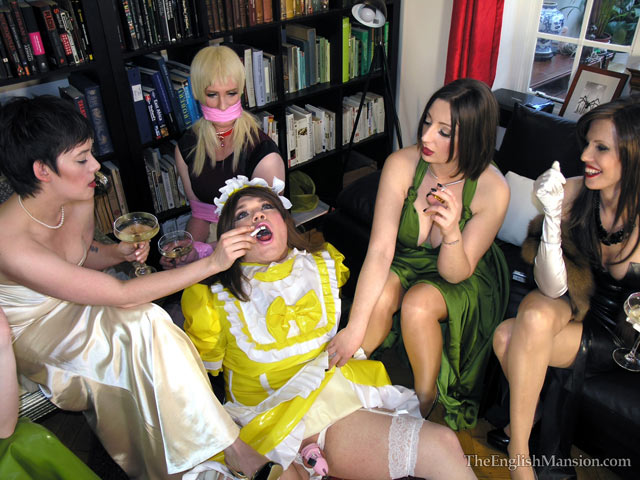 The Ladies decide to retire to the library to smoke, Maid Jess is left tied up to contemplate her failings, while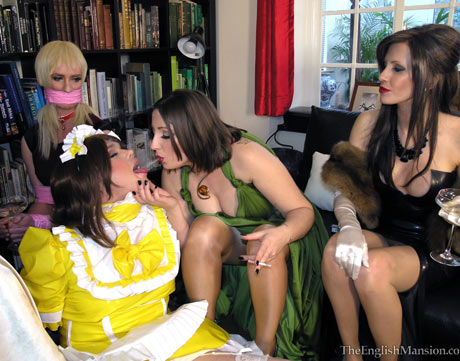 Maid Charlotte is brought in to be useful as an ashtray and spittoon. Her sissy pink chastity device is then teased by Mistresses in order to provide them some amusement.
Meanwhile the new slave has been put through an extensive feminisation process and is now fully dressed and transformed into a maid – locked in the uniform and in full makeup, creating a much prettier sight than before! She is then taken into the conservatory where Maid Tiffany reveals her big cock and new maid is coerced into sucking it, as party of her feminisation training – encouragement being given by all the Ladies of Pretty Maid Manor.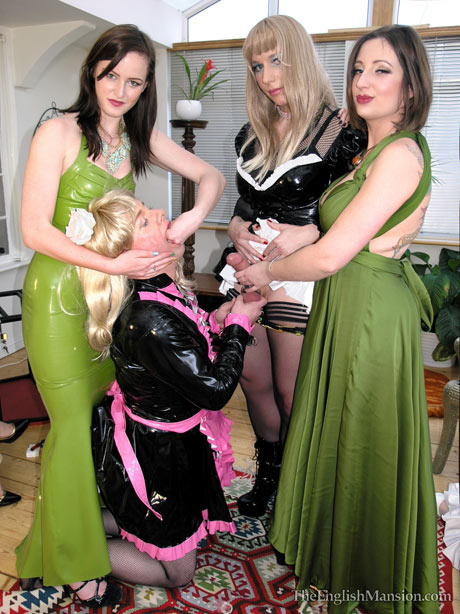 Pretty Maid Manor Pts 3 & 4 of 4 are now showing inside The English Mansion, featuring: Governess Ely, Goddess Miss Kelly, Miss Vivienne L'Amore, Mistress Sidonia & Mistress Evilyne at her fantastic Dungeon Manor.
See also Jessica Dee's account of the day here: https://jessicadee25.wordpress.com/2015/05/13/english-mansion-at-dungeon-manor/