Pony play is super erotic for me, it is not about a person being an animal, they are still human but I have reduced their status to nothing more than a beast that must toil for me. It is a position lower than a slave. They are no longer a man or even a slave but my creature, to do my bidding.
Most are workhorses however, a lucky one may become a pet or showpony. It can be used as punishment for slaves who are neglecting their duties –  give them a spell of hard labour in the stables, this will soon knock any lingering recalcitrance out of them.
In order to become an effective workhorse my ponyboys are put through an extensive training period. All the various types of riding and dressage will have to be taught to them, while their physical fitness and endurance will have to be improved. I like my ponyboys to be fully and extensively harnessed – this aids the riding process but also keeps them in a type of tight constant bondage. A constant reminder of their new station and life as my pony.
There are many types of ponyboy riding, see my previous article here –
Riding Mistresses & their Ponyboys, however the most elegant and comfortable is the use of a carriage, cart, chariot or fly. Why should my guests or I have to walk around the extensive Mansion grounds when we can view it from such an agreeable and pleasant setting as the back seat of a cart.
It's also the perfect way for a Domina to get up close and personal to a pony slave during his training period. Once he is harnessed up to the cart and you are seated behind him, quirt in hand, you can exercise him for hours on end. The whip so close to his backside is the perfect way to spur him on and make sure there is no let up in his efforts.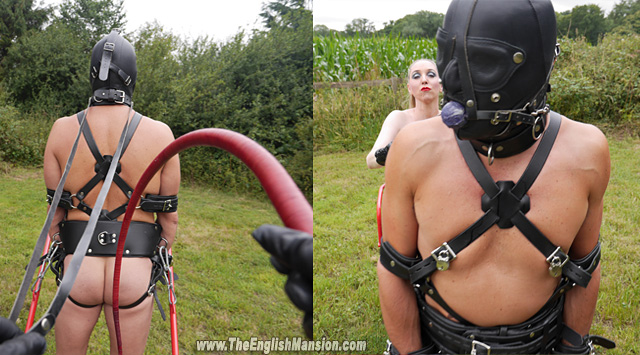 During femdom parties smaller flys can be brought out and Domina's can enjoy a day of racing, this is not so much about who wins, as who loses – as this poor pony will end up feeling the crop of every domina present!