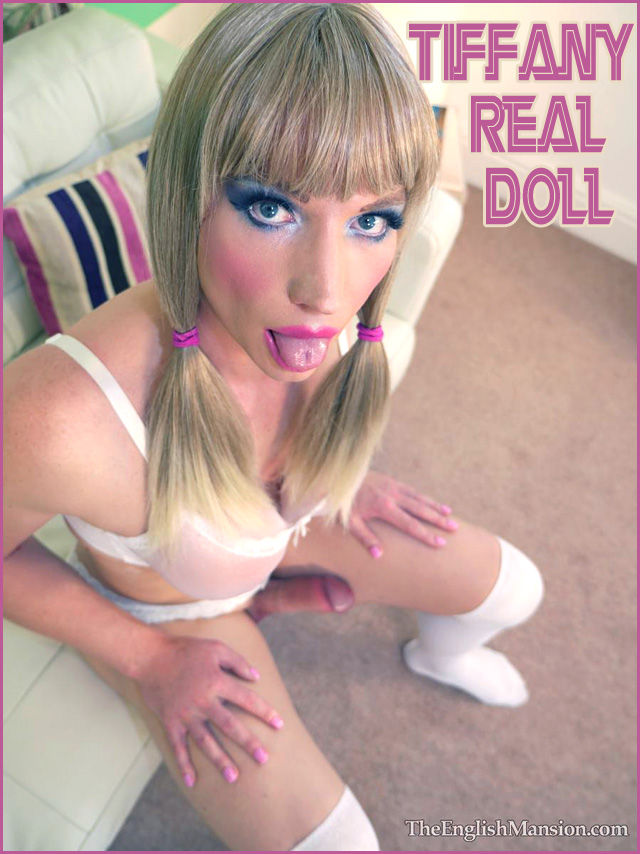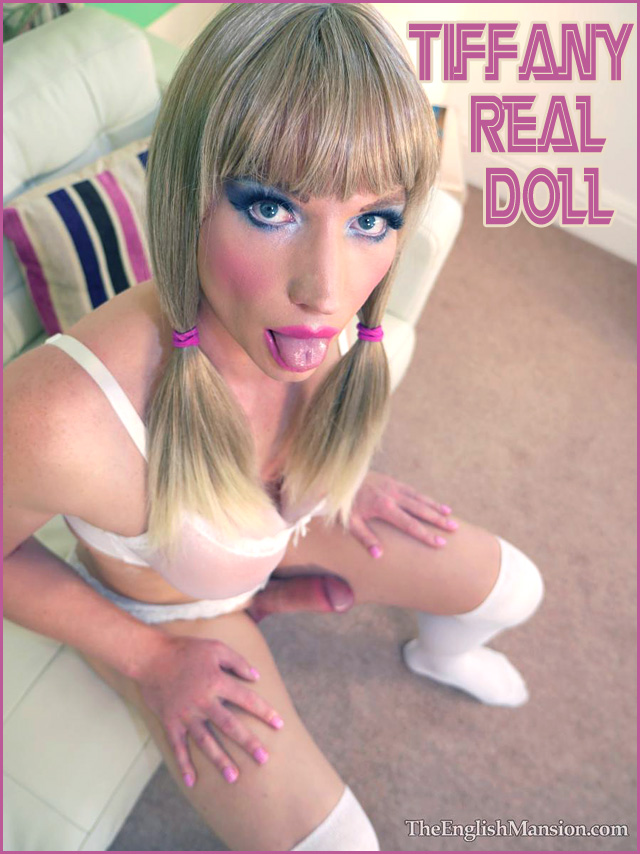 This is Tiffany Real Doll she is quite beautiful, perfect for dressing up and playing with for hours on end – just a total mindless, bimbo, fuck dolly. Well girls do love playing with their dollies 🙂
What you may not realise is that Tiffany was once the husband of a female friend of mine, an aggressive, arrogant, sexist man who needed to be taken firmly in hand… that's where Lady Nina Birch and I came in. We took him to one of our special holding cells at the Mansion where he was strapped tightly down and we proceeded to cut off all his male clothes (well he wouldn't be needing them again), waxed his whole body (that did make him howl) and put him into tight chastity (the type with little teeth). After spending a few days locked away naked and cold, finally, he accepted the female clothes and wig we had left him for warmth. And once deeply asleep (we have our ways) we used locking bondage belts to secure them firmly onto him. We felt it was important that he put on the clothes himself and then learn to appreciate the feel of the soft silks and sexy lingerie we had chosen for him.
Then we began the continuous 24hr mesmerizing videos and recordings which were broadcast into his cell encouraging him to embrace "her" new femininity, along with special hormones in the food. We continued our nightly visits, this time doing full make-up (the waterproof/24hr make up that doesn't easily come off), and painting his nails and toes bright sparkly pink. Finally, he was broken – a great ceremony was made as "he" became "she" and one of our beautiful slave maids. We named her Tiffany. Disappointingly, however, many of the male traits were too ingrained and Tiffany was in need of endless punishments: for touching her clitty; peeping at or even groping up some of the other slave maids; and generally not being obedient- to name just a few.
Lady Nina and I would not be defeated so we decided to take the extraordinary step of a total mind wipe. This would mean Tiffany would no longer be a slave maid but just a mindless bimbo fuck doll for everyone's amusement. Again it took many dedicated hours of: mezmerising mind control; long periods of sendep (sensory deprivation) bondage; and pain and pleasure conditioning – until finally she emerged and was perfect. Tiffany Real Doll is now passed around all the visiting domina's at the Mansion. Occasionally her wife comes to see her and uses her, though she now has no memory of that unhappy old life.
You can watch her in action as she is passed between 3 dominas in these showing and coming soon films: Tiffany Real Doll, Tiffany Play Doll & Tiffany Sex Doll.