4 Reasons To Love Bound Boys
So what is it exactly that I love about having a bound and gagged slaveboy, totally at my mercy…
1. Senses: The Aesthetic Beauty and Artistry
There is a beauty, artistry and aesthetic pleasure to elaborate bondage, my good friend Meisterin J.Zara called male bondage 'living sculpture'. You are the creator, while they exist as puppets to be moulded and fashioned into a new beautiful form. (Probably why I like a certain tidiness and symmetry to my creations.) A literal objectification – where man becomes object becomes possession.
2. Mind: Total Power & Control
While bound and completely restrained the slave is totally at my mercy. I become their total focus – omnipotent and benevolent. I am a god and my whims may bestow favours or torments: pain or pleasure, tease or release. Power is such a heady, decadent pleasure.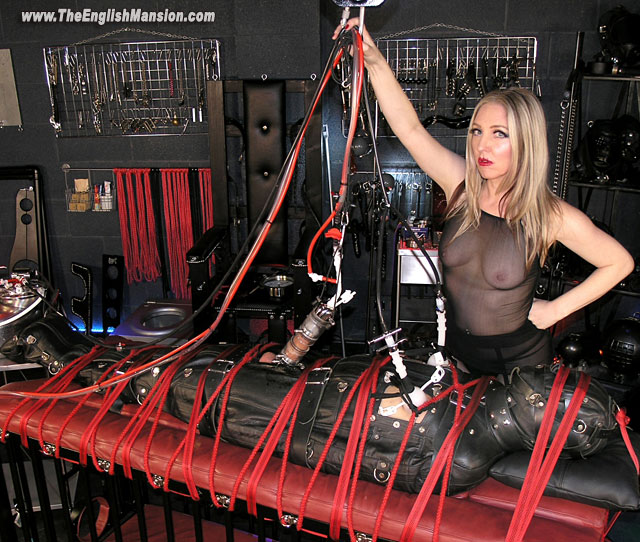 3. Body: Bondage Sex & Strapon Fucking
Most importantly is my base desire and greedy lust to take, enter and violate them while they are bound and gagged. To objectify them into nothing more than helpless fucktoys for my sexual gratification. This is an essential psychological element to their enslavement to me. To take, use and fill them at my whim, they exist only as a vessel for my pleasure. Relegated to communicating with feeble nods, muffled moans and pathetic whimpers. So *Hot*!
4. Spirit: The Intense Bond
There is a deep bond that exists when you have a slave in extreme bondage, you control everything even their breathing, an intense responsibility. This connection is built on total trust within this consensual arrangement; they freely surrender themselves to me and I in return respectfully treasure this gift. This concord also encompasses the divine maternal, they return to primal child-like state, are in my care I may feed them, pet them or punish them. This is a symbiotic relationship where domme and sub find peace and succour – ultimately we both share the pleasure I receive.

MSVB's Bonus Bondage Thursdays
I have been indulging my dark cravings over the last year, in a series of films showcasing my personal bondage fantasies, with my real-life slaves serving me. So for 2016, every Thursday, we'll be updating a bonus film, exclusive for English Mansion members. (And, all the photos in this article are from showing or coming soon movies from this new series.)