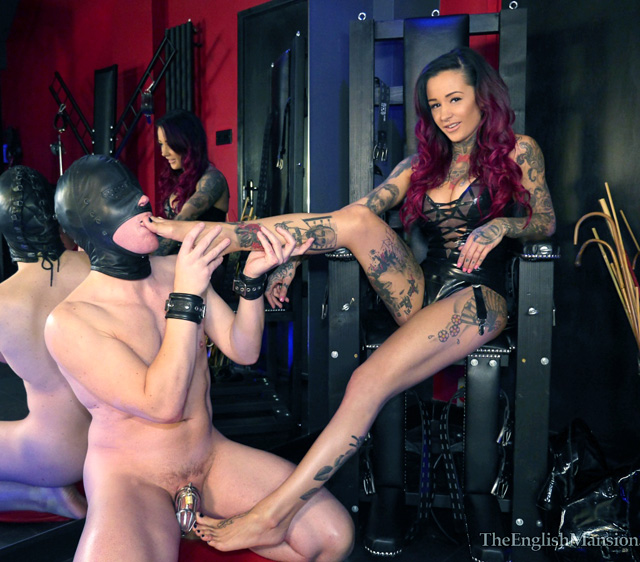 Foot Worship & Foot Fetishism
Women naturally have more beautiful bodies than men and their feet are no exception. Women's feet can be as sexual as their breasts with their petite toes, elegant arches and unique aroma. And with so many adornments to show them off: painted toe nails, peep-toe shoes, stiletto heels, toe rings, even flip-flops (which to foot-lovers is like watching a girl out & about naked!)
Foot worship is inherently a submissive act for a man while it is intensely erotic, empowering and pleasurable for a woman. Often foot lovers will have other related fetishes like leg worship, shoe or heel worship, a love of stockings & suspenders, even fragrant socks and trainers. Feet can be worshiped, licked, smelled and toes sucked but they can be cruel with foot face slapping, foot deep-throating or trampling. They can tease, seductively crinkling their soles, deftly swinging a shoe from their toes or slowly stripping off a seamed nylon.
Here at The English Mansion we believe a man's place is at a woman's feet, in fact we insist upon it 🙂 whether they're bare footed, adorned in thigh boots or aloft in extreme stilettos! And, recently we've been featuring lots of gorgeous bare feet in our films… see below, all films now showing.
Footjob – Like a handjob, but using the feet. The common methods are jerking/wanking the cock: between the soles sandwiched together; while gently crushing it flat with one sole; or sliding the penis between the big and second toe.
Shrimping – To lick or suck on someone's toes.
Elvis Presley had a well documented foot fetish, stemming from having to massage his mother's feet as a child (or "rub her little sooties," as the King chose to say). Presley's handlers would screen groupies on the basis of their feet before they could smoozie up to the rock icon.
Foot Face Slap – Being slapped round the face by the sole of a girl's foot.
Shoejob – Like a handjob, but using the shoes. Usually by using the shoe sole by jerking it as it's pressing down onto the cock.
Quentin Tarantino has a well-know foot fetish and usually squeezes a foot worship scene into his films.