A Fun Day Shopping with the Girls

Part 4 Enforced Full Dressing & Humiliating Exhibitionism
Set aside some time for a shopping day and invite some of your bitchiest girlfriends along, as it's time to have some fun taking him shopping for a new 'girly' house uniform. Hold up whatever you are choosing against him in the shop and make sure there are some young, pretty sales assistants on-hand to give their opinions.

Most beauty salons are pretty open to male grooming these days, so start the day by relaxing looking at magazines in the waiting room as he endures a full body waxing. Listen out for the agonising moments when the beautician gets to the back, sack and crack!
The shoe department is great fun – before the day inform him that from now on his toe-nails must always be nicely painted 'sissy pink' or 'whore red'. If you're lucky enough to have a husband with small enough feet you can find some really nice shoes in the high street, perhaps some really hot 'stripper' ones. Make sure you and the girls are sitting comfortably so you can have a good giggle at his attempts at walking.
Keep him in a snug chastity device whilst you are out. Give your friends free reign to flash their stocking tops and press their breasts up against him. You can laugh at his obvious discomfort as his erection swells.
Wig shopping is next, revel in making him try on several. You can discuss with your girlfriends as to whether blondes do really have more fun? You could select a few in different colours, lengths, maybe curls to make him look cute. He needs to be able to entertain you in many guises including slut, maid and sissy. Depending on his work situation, if you can get him to grow his own hair, even better.
And of course there is the underwear department – need I say more. Thoroughly humiliate him by measuring him up. Discuss with your girlfriends what size breasts would best suit his frame, and hold up against him various negligees, satin or lace panties and suspender belts. Consider which colours bring out his eyes. Pick him out a few pairs of sexy sheer lace top stockings he should be more than capable by now of attaching suspender clips and rolling them up in the correct way without snagging them. Penalties like a firm spanking etc. can be used to encourage care.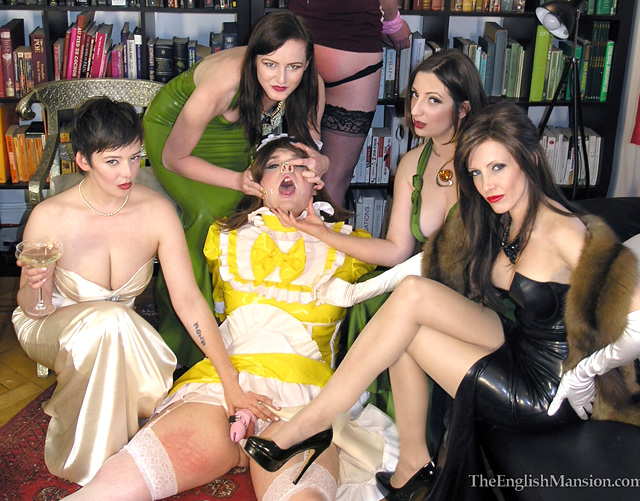 Above image features: Governess Ely, Miss Vivienne l'Amor, Mistress Evilyne & Goddess Mistress Kelly
If you go on a week day you could find a quiet ladies fitting room, you and the girls can drag him into a cubicle, grope him up and make him do whatever you want. He will be uncomfortably reminded by his straining cock that he's still in chastity, the key held securely on a chain around your neck.
You should now have him sleeping every night in a pretty pink nightdress so he wakes immediately reminded of his new gender correction. Find the frilliest girly nightwear for general use, also a short slutty numbers for 'action' evenings. Pick up some sexy underwear and killer heels for yourself to wear around the house to sexually torment him. Of course make sure a young pretty female serves.
I will continue this in Pt5 – Coming Soon. Lady Nina  x
© Lady Nina Birch

We've been honoured at The English Mansion to be given exclusive access to Lady Nina Birch's Special Feminisation Regime, which we will post here over the next few months. This is an extensive, light-hearted guide and an essential read for all Ladies & special girls who want to engage in the world of feminisation. Lady Nina Birch is the UK's foremost feminatrix with many years of experience and extensive knowledge on crossdressing and full-feminisation.
You can find our more about Lady Nina Birch here on her personal website