Mistresses, dominatrixes, lifestyle couples and naturally submissive men from all over the world are invited to join Madam Caramel this winter, in London for an evenings celebration of Female Supremacy.
London's FemDom Ball 2016
Internationally renowned dominatrix, hostess of Club Black Whip, proprietress of Hoxton Dungeon Suit and beautiful Goddess, Madame Caramel is hosting a very special evening celebrating Female Supremacy in central London on Saturday the 8th October 2016.
With the success of last year's FemDom Ball with over 180 dominas and slaves in attendance, held at a first-rate central London location, this year's event is sure to be just as fabulous. Already a legion of dominas from all over the world have confirmed their attendance. There will be a strict slave protocol in place for the evening, planned activities, a human raffle, fashion shows & a play room.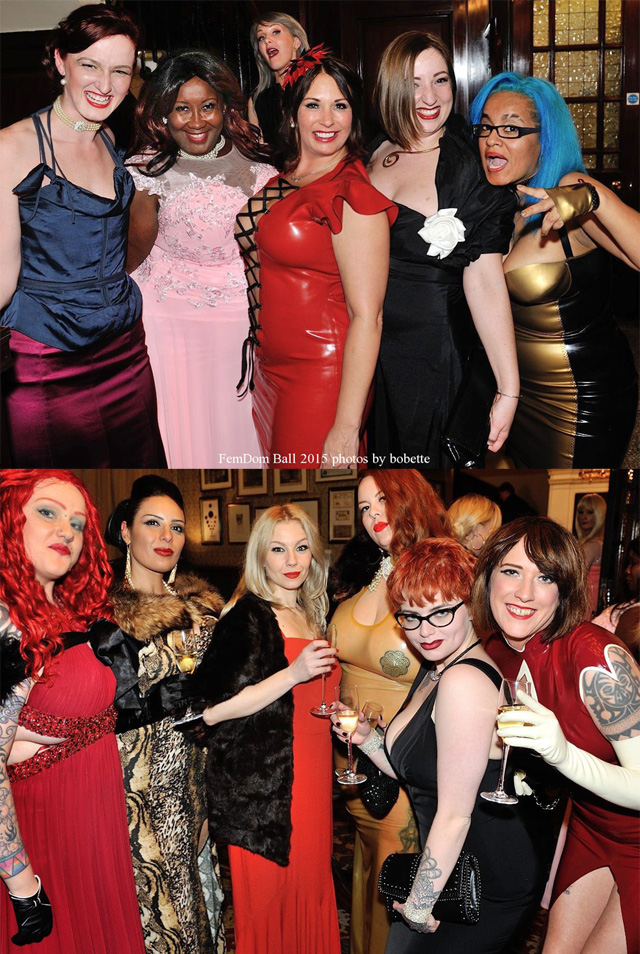 The English Mansion is very pleased to be promoting, supporting and sponsoring Caramel's efforts. She plans a night of decadence, fun, fetish fashion, glamour, pleasure and pain for femdom enthusiasts.
We're also offering 5 free English Mansion site passes as consolation prizes in the raffle. Last year the proceeds from their charity raffle were donated to the very worthy The Spanner Trust, a charity dedicated to challenging the anti BDSM laws in the UK. We hope to see you there 🙂
Ticket numbers are limited, so get yours while they are still available! Visit the website for tickets & more details: www.femdomball.com
or Visit Madame Caramel's website here: www.madamecaramel.com
(Above) Photos by Bobette from last year's FemDomBall with Ms Vivienne l'Amor, Madame Caramel, Miss Kitty, Mistress Brown, Mistress Evilyne, Goddess Qadesh,  Mistress Ezada Sinn, Mistress Lilse, Madam Cruella & Miss Marilyn.

Take a little peek at this fabulous footage of the action from last years' FemDom Ball 2015!