I'm going to pick out my favourite English Mansion toys and tell you all about them in a series of blogs called 'A Few of My Favourite Things'. So in no particular order:
No. 11 – Pulsating Rubber Vacuum Suit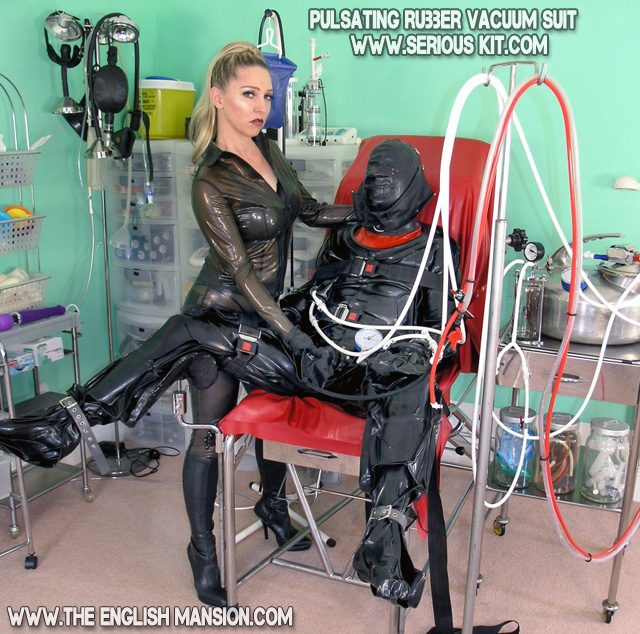 Sensory overload rubber scene utilising Serious Kit's Pulsating Rubber Vacuum Suit

As you may know I'm a big fan of BDSM engineers & heavy play toy makers – Serious Kit and have already told you all about their Double Suction Pulsation Milker an elaborate beautifully designed male cock milking machine/set-up see here.
Well they also produce a Pulsating Rubber Vacuum Suit, a hermetically sealed rubber body suit with comfortable air tight neck, wrist and feet seals. The stainless steel ports allow air-tight entry of an e-stim cable and three vacuum hoses, these plug directly into the Serious Kit suction bell.
Once connected to the milker bell and the valves opened – the milker starts to remove all air from the interior of the suit. The vacuum suit makes full use of the milker's capability to evacuate both air and fluids allowing a unique sensation of full body wet suction. Fluids within the suit will be evacuated into the milker (so extended bondage sessions need not be interrupted by bathroom visits). An optional 'fluid intercept' kit can be used when connecting the suit to the pulsation inlets on the milker turning it into a powerful pulsating vacuum suit.
An access port at the groin allow penis devices such as their SPTs to be used while maintaining an air tight seal.  Alternately the suit is supplied with a removable air tight rubber penis bag.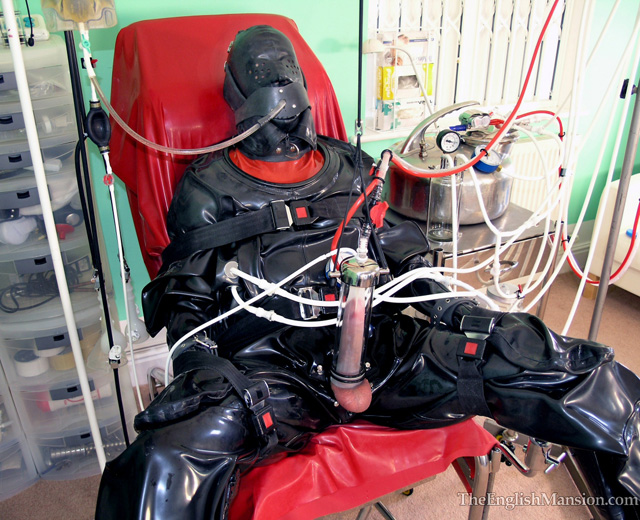 After the scene my slave described the "suit" experience as being sucked and hugged tightly, in a soft rhythm. And that he dropped into a deep subspace, overwhelmed in the tight, rubber bondage, doubled hooded; while the SPT milker pumped and stroked his cock just enough to keep him constantly edged. You can watch all the action in this new English Mansion film – Super Suction Suit, which starts this week.
Serious Kit are a small artisan company, run by genuine British enthusiasts designing highly-crafted specialist devices, take a look at their website for more details: www.seriouskit.com