Welcome to our May 2012 Newsletter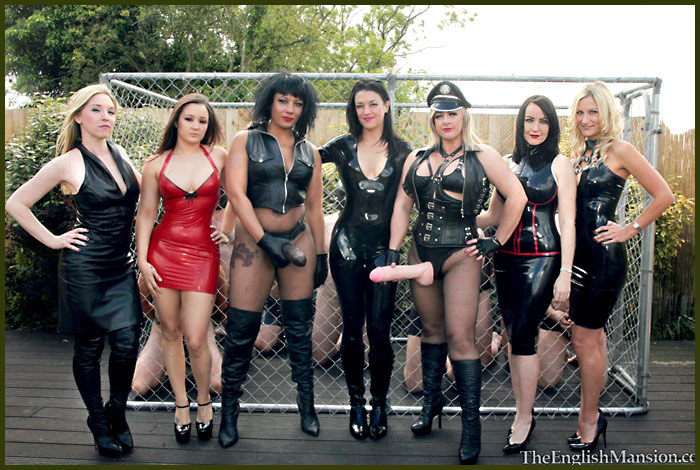 Have you ever fantasised about visiting The English Mansion? Wanted to find out what happens behind closed dungeon doors? Well you're invited to 'A Weekend at The English Mansion'.

I hope we'll see you soon at The English Mansion or visit My Blog & My Twitter
Mistress Sidonia xxx (those are kicks not a kisses)
---


A Weekend at The English Mansion
Have you ever fantasised about visiting The English Mansion? Wanted to find out what happens behind closed dungeon doors? What goes on inside a real Femdom house? Where men are turned into slaves or TVs and forced to serve dominant women. Where the women use and abuse men for their pleasure…

Well I recently invited over six of my Mistress friends for a weekend of Femdom debauchery and slave punishment at the Mansion – Mistress Rouge, The Hunteress, Lady Nina Birch, Miss Annalieza, Mistress Nikki & Miss Jessica Wood. And, we left the cameras rolling just to document the day so you could get a real life peak inside the Mansion. (Pt 1 Slave Picking starts this week.)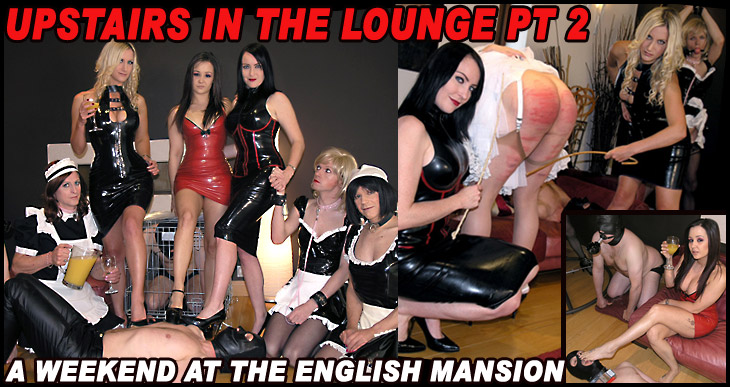 When the Mistresses first arrived some slaves were designated as servants, TV Maids and human furniture. The remaining slave fodder was left outside caged – later after lunch each of the caged slaves could then be individually examined and humiliated in turn whilst being made to perform for the ladies' pleasure and amusement.

We have a glass floor at the mansion and while we were in the lounge we could hear screams coming from the dungeon and so thought we'd take a peak. (See the clip on my Blog)

Each Mistress was then asked to choose a slave or few and then to retire to the Mansion house for further play. Mistresses Nikki, Jessica and Annalieza retired to the lounge with some slaves, but their fun was spoiled by the badly behaved TV Maids and so Nikki & Jessica decided to deal with this, as only they can with their canes! The third maid was placed in bondage, knickers around her ankles. I joined them at that point, I had just been giving the Hunteress a tour of the Mansion. And wasted no time in adding to the tied maid's humiliation by encouraging a slave to play with her maid's she-cock and eating the precum, much to the other Mistress' amusement.

Meanwhile Mistress Rouge and Lady Nina had gone down into the dungeon ready for an onslaught with their huge strapons including their BAMs! With the party upstairs in full swing, at one point all we could hear was screaming coming from the dungeon below us – it's a good thing we have a glass for, we lifted up the carpet so we could peak in on the strapon action below!
---
What's New at The English Mansion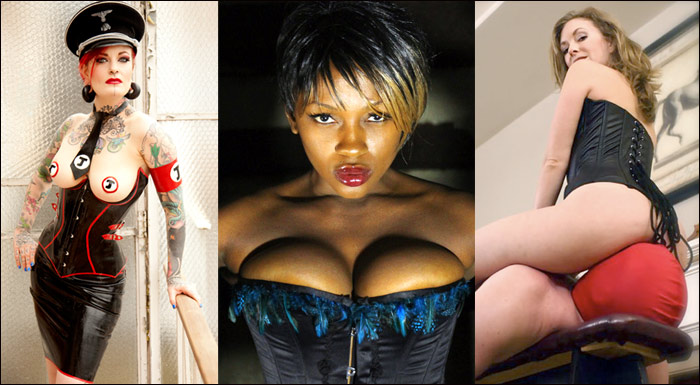 New Dominas appearing this Month: the bizarre and tattooed Mistress Jezable; the stunning Mistress Ava Black; plus back for more, all the way from Canada the totally wicked humiliatrix Mistress T. Come and watch them in action.


Mistress T can also been seen in action on her members site here
Cuckolding, Age Play, Giantess, Humilation
---
Even More Fun with a Strapon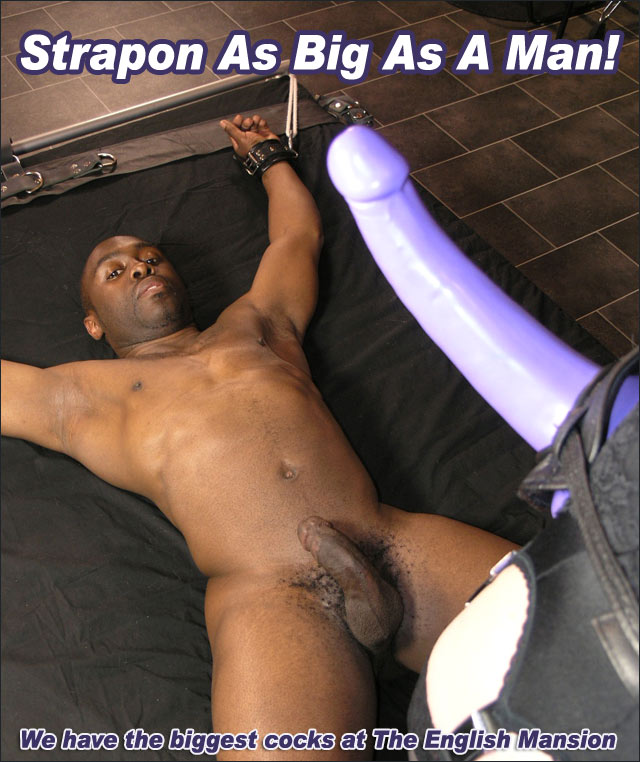 I've talked about the psychological and physical pleasure of wearing a huge strapon cock to give your partner a 'good old rodgering'. I've also listed a number of excellent strapon fucking positions but there's much, much, more fun to be had with a strapon…

Strapon Fellatio & Deepthroat
There is also the super sexy experience of making your slave – suck your strapon cock. This is a supremely submissive act, well he has to be on his knees and I love all the eye contact. And, if I'm feeling really mean I can fuck his face or make him gag with some cruel deepthroat action. Girls you know it's deep when their eyes start watering

BAM the Giant Strapon
The BAM literally is the biggest strapon in the world! Named after a famous American Porn star's member, known by Mistress Rouge as her 'Big And Messy' and we thought perhaps, the 'Big Arsed Mother F***er'. Only the very select few have tried to take BAM, and even fewer have succeeded. More Here You know you're in trouble when your thinking "I'd prefer to be fisted".

Pissing Strapon
Who say's a woman can't stand up to pee! This was a new toy I made up myself, a strapon cock I can piss through. I especially enjoyed ramming it down the slave's throat to piss.

Cuckolding & Chastity with a Strapon
Making a man or slave wear one to fuck you or someone else can be so sadistically satisfying, it makes sure he gets all the work and tease but with none of the pleasure . Or if his cock is on the small side then you can up-size him, just strapon your preferred size and type and put him to work. You can even make him wear it over a tight chastity device, that way he can't even get an erection while fucking you.


Vibrating & Double Ended Strapons
For me using a strapon can be a very sexual act a total reversal of roles, I like to be naked and to get really close to my partner while fucking them – thus the ultimate experience is for me to cum while fucking him. That's where vibrating and double ended strapons are perfect. They even make some strapless strapons, which I have tried but don't seem to be able to get a strong enough thrust:)

Electric Strapons
I have an electric strapon which I bought at Erotica, it ensures they feel every inch intensely.
Pt 3 of 3 Full article available on my Blog
---
Fetish Funnies
Taking a walk around town and my local supermarkets, it's amazing how many fun fetish references one can find :)



Value riding crops at Tescos – glad to see femdom kit is part of their basic range;
Cock seasoning presumably for after its been thoroughly beaten;
I loved this huge 8ft sign hanging over the entrance to the historic Roman Baths;
Ass (assorted!) Fudge & Ball Bags someone needs to give these shop boys a good thrashing;
Cooking with Poo (don't put that into a search engine – it's not nice) apparently Poo is the Thai word for crab;
Bulls for sale, I must let Mistress T know, she's always on the look out for young, strong bulls for her cuckolding scenes;
Penis topiary – is that deliberate? Perhaps it's some kind of secret swingers sign;
& the Whiplash leaflet was handed to me when I left my gym – who knew it was it was so prevalent.

---

Hot New Free Trailers
All these movies are showing right now inside The English Mansion, click on posters to download trailers

or Here to Watch Streamed Trailers
Click on posters to download trailers