Prepare for… Teutonic Trampling, Testicular Torment & Torpedo Bra Teasing in
To Hell & Back – More Amazing Tales of Heroic Masochism

"I won't talk' grunted Sgt. Rock through clenched teeth. A strange and sinister smile twisted the corner of his captor's luscious lips.
"Maybe a little goose-stepping on your balls vill loosen your tongue" The smile broke into an evil laugh as Stella Von Stern slapped the enslaved Sgt. Rock hard across the jaw. This was the second day he had spent bound to an uncomfortably bamboo chair in the jungle hut. A mischievous native girl and her poison dart had thwarted his top-secret mission into the heart of enemy territory. Sgt. Rock had been attempting to suck the poison from the tip of his penis when he was fell upon by a troop of She Fuhrers and captured. Once the fever from the poison dart had subsided, he awoke to find himself a prisoner of one of the most feared but yet strangely beautiful comandanks of the Herman Army.
"Vot is your name, wank and serial number?" purred the Teutonic temptress in the G.I.'s ear of steel.
"I think the word you are looking for is rank." Grunted Sgt. Rock.
"No," she sighed, "I meant wank, your tummy solider still seems to be standing to attention. Maybe we should dismiss him."
Stella raised her leather boot to rest it dangerously close to Sgt. Rock's rock hard manhood, enabling him to get a glimpse of her stocking tops. Her riding crop jabbed greedily at his throbbing camouflage pants.
"Is this still the effect of the poison dart or maybe you are impressed by my tutonically tight skirt." She said pushing her knee hard against the immense girth of his chest.
"In fact, our spies have reported that some really tough G.I.'s have their name, rank and serial number tattooed on the inside of their foreskin to prove how hard they are!"
Sgt. Rock winced and gritted his teeth, nearly sheering the shaft of his cigar. "And maybe, if your mission is so top secret, then maybe I'll find some information that vill be of use to the Herman High Command."
Sgt. Rock thought rapidly and hard, the story about the tattooed toughies was just barrack room bravado spread around to make everyone think his commando unit was the most hardened, gun-ho fighting force in the world. Whilst his sadistic interrogator remained distracted by a little cock and ball torture he could keep from revealing the truth about his mission. There was nothing else he could do but pretend to be a lily-livered coward, a pansy, a patsy and a goddamn yellow-bellied softy.
"No!" he screeched, "You'll find nothing there. I'll tell you my name…it's Wenzell, Wenzell Rock. My rank is Sergeant and my serial number is 0000001. Just let me know if there is anything else I can help you with."
"Ah ha, as I thought." She was smiling again, that evil and perverted smile. Stella Von Stern's foot ground hard over the red, white and blue tip of Sgt. Rock's steely manhood. The forceps were cold and cruel as they twisted the true blue cock, sadistically pulling back the foreskin.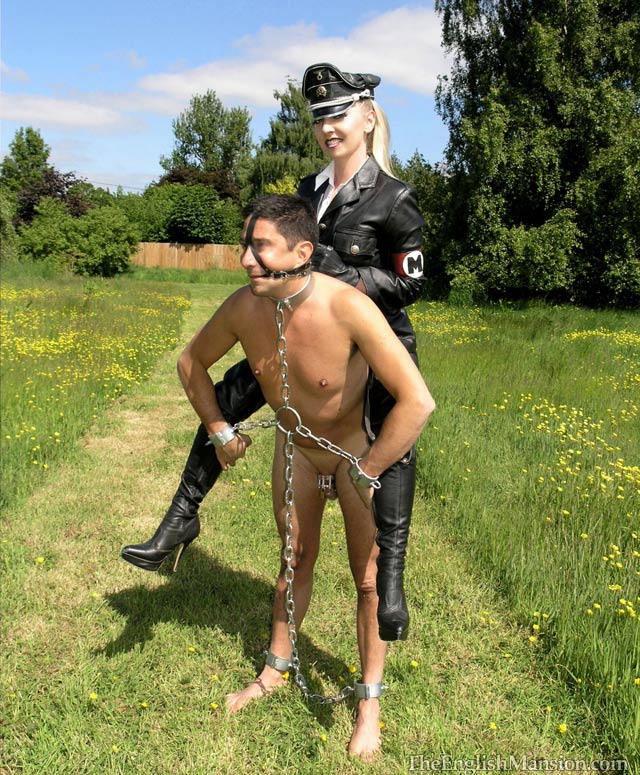 "Vell!" she exclaimed "Completely blank. Either you're lying or you veren't tough enough to get a tattoo. Let's see how tough you really are Sgt. Rock."
The all American hunk fell to the floor as Stella Von Stern took hold of his helmet and threw him from the chair. "This is vhere the fun really starts!"
"No," cried the Sergeant "Not my cigar!" Too late, her Jacqueline Boot kicked it from his lips and ground it into the floor of the jungle hut. Stripping her blouse like a wild tigress, Stella Von Stern fell upon his back and sat astride the huge hulk of his shoulders she viciously pulled his hair, twisted his ear and gave him a nasty Chinese burn.
"You can chafe me all you want I won't talk."
" O you vill talk alright. After I have given you a good hearty wrestle, I shall call for my guard. She is very artistic with her tattoo machine once she has vitten a message on your so-called manhood declaring your allegiance and slavery to the She Fuhrers, you will be branded a traitor and a coward. Do you have anything to say for yourself?"
"I won't talk." He hissed, "Never ever, ever."
The insect like buzz of the tattoo machine filled the jungle night. Sgt. Rock twisted his neck in the strangle hold of Stella Von Stern so he could see the doorway. A shadowy figure loomed at the entrance, the moonlight glinting on the needle tip of the tattoo gun. Elsa Von Strap-On clicked her heels and marched smartly into the room.
"Pin him down Von Strap-On I shall begin my dictation…"
To Be Continued… Written by Mark E. Dezard
Read Part 1 here  ~ Part 2 Coming Soon