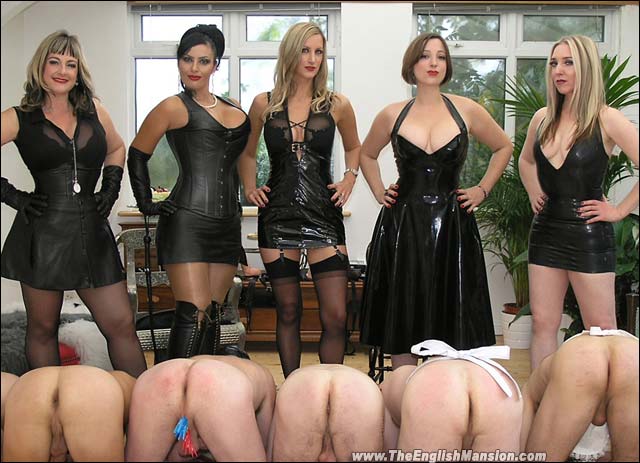 Lady Nina, Mistress Nikki & myself were recently invited over to a little afternoon soiree at Mistress Evilyne's 'Dungeon Manor' for an afternoon of decadent deviance. Already in residence at the Manor was Mistress Ezada Sinn who also joined us for the afternoon.  See Part 1 of this blog entry here  I've already blogged about the first half of the afternoon, so here's what happened later…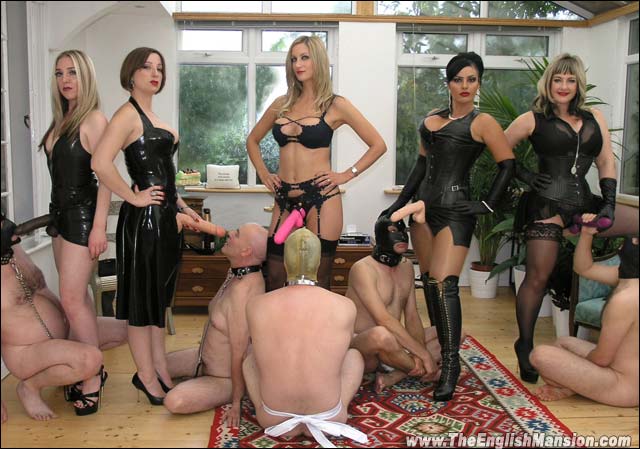 After the cruel but entertaining display of a 3-way cock whipping was finished, we all donned giant strapon cocks and lined up our little bottoms' bottoms, in order to pick one ill-fated boy for an unsparing 5-domme strapon gangbang!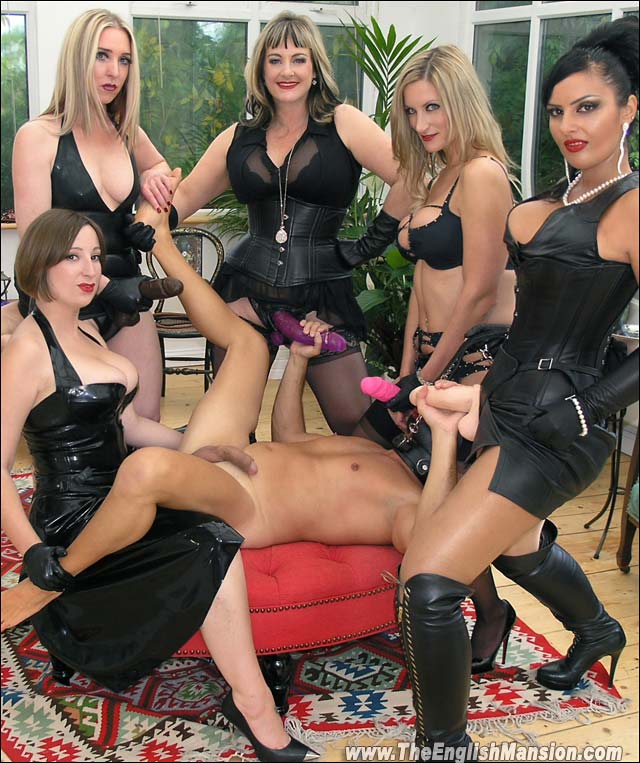 Once one poor unfortunate (or fortunate) was chosen, it was time for our gangbang fun to begin and he was passed round all the dommes, each of them in turn, fucking his little backside senseless.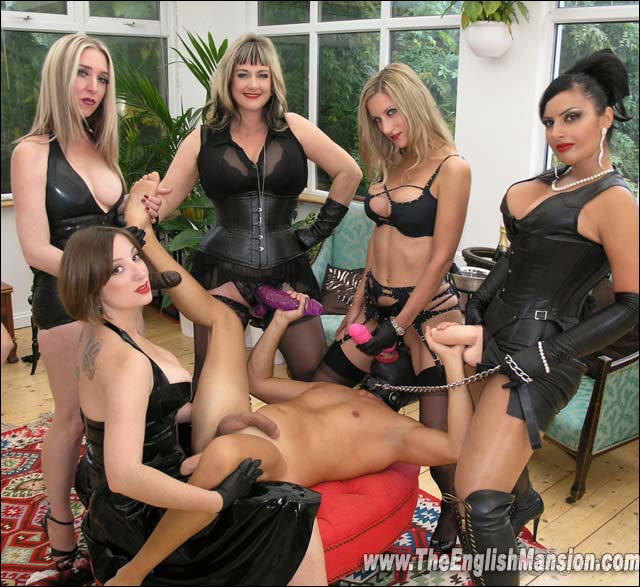 With so many dommes to please he was instructed to take a cock in his mouth and one in each of his hands at all times! And we had such fun tossing him around, spitroasting him and fucking him every-which-way and position we could think of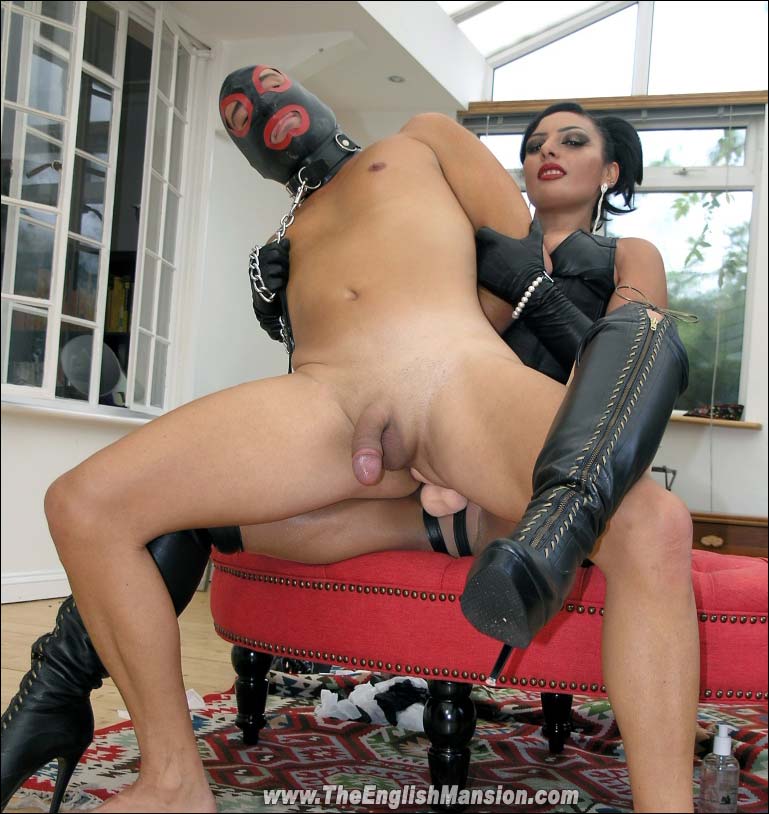 Mistress Ezada decided to let him do all the work making him sit on her giant strapon and then work himself on it while we all watched and laughed, especially as he kept falling off. A little later Lady Nina & myself had a fiendish strapon competition pitting two subs' holes against each other.
Meet the stunning, experienced and extremely fiendish dominas at the party along with their play meat. In attendance: Mistress Ezada Sinn, Lady Nina Birch, Mistress Nikki Whiplash, Mistress Sidonia & Mistress Evilyne at her Dungeon Manor.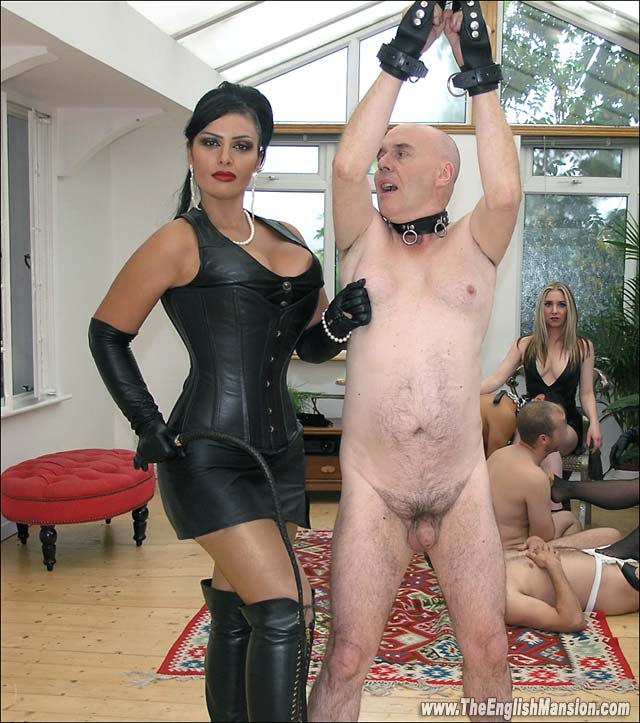 Once our strapon extravagaza was over, it was time for a little more entertainment from the stunning, leather-clad Mistress Ezada who provided a wonderful whipping display using her collection of single-tails.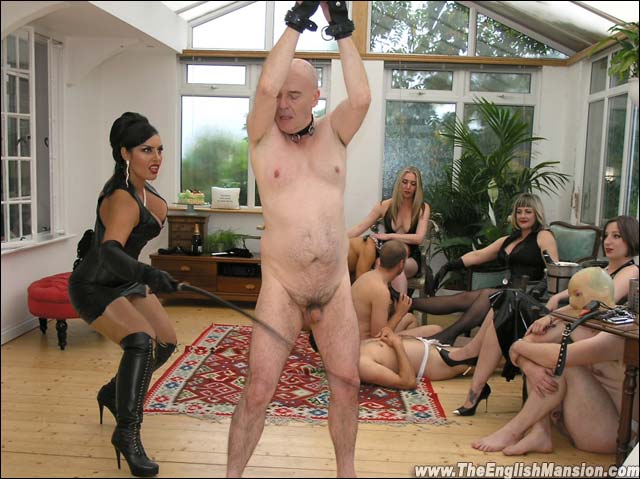 Her slave-beat-meat dancing around was certainly funny for us – oh and how he danced! And, I suspect it will be something he will probably remember for some time to come.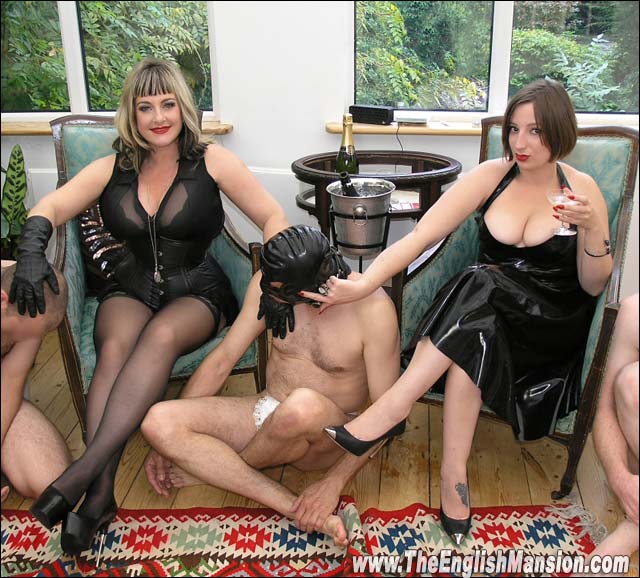 The afternoon was coming to an end but there was still time for a little bit more extreme humiliation. Lady Nina had been teasing two little subs, making them wank their little 'men' until hard. One was then permitted to come all over my lovely toes, however, a cruel twist was intended, as a foot-lover sub was then made to suck my spunky toes, lapping up the other sub's cum. He was then made to spunk his own load and lick up every drop.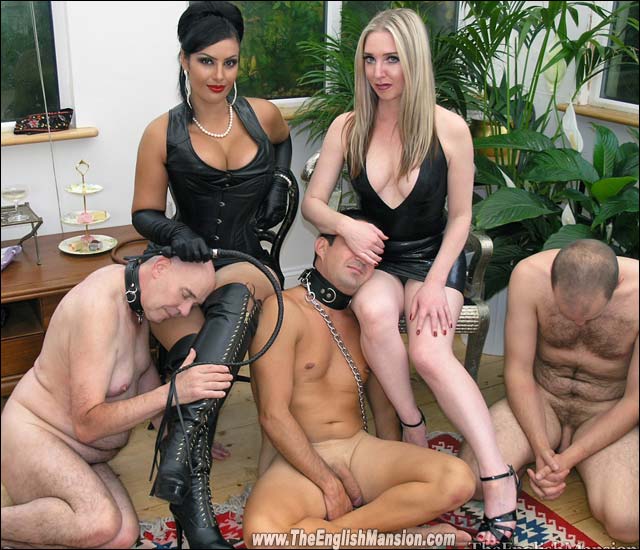 We captured all the real-life party action as it unfolded with documentary style footage & you can watch it all inside The English Mansion in:
'Party At Dungeon Manor Pt1, 2 & 3′ now showing.