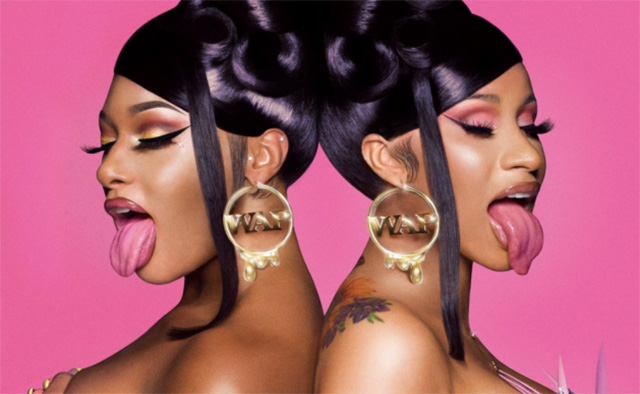 Welcome to The English Mansion's
Top Ten Fetishy Music Videos
That Don't Give A F#!k
Our musical Top Tens dedicated to all things kinky
There was a time when to find a song or music video that had even a veiled reference to sex or fetishism was almost impossible.  Those that did were infamous, they would be banned, censored or only shown after midnight.  Things have certainly changed, many of today's pop videos are more explicit than the soft-core porn of yesteryear.  There's been an explosion of erotic, sexual, fetish and downright challenging 'F**k You!' visuals.  Thus, it's not surprising that this top ten, unlike all my others (which usually span 5 decades), is almost exclusively from the last 15 years.  So here are some of the most outrageous fetishy pop videos that really didn't give a f*ck!
Top Ten Fetishy Music Videos
That Don't Give A F#!k

1   Hear My Name

Armand Van Helden (2005)
Play Video
2  WAP – Wet Ass Pussy

Cardi B feat. Megan Thee Stallion (2020)
Play Video
3  Loose Wrists

Cazwell (2017)
Play Video
4   Short Dick Man

Fingers & Gillette & 20 Fingers (1994)
Play Video
5  Go To Town
in joint place with
5   S&M

Doja Cat (2018)
Rihanna (2010)
Play Video
Play Video
6   Whore

In This Moment (2012)
Play Video

7   Puppet

Alaska Thunderfuck (2016)
Play Video
8  Relax
in joint place with
8  Erotica

Frankie Goes To Hollywood (1983)
Madonna (1992)
Play Video
Play Video
9  Bon Appétit
in joint place with
9  Chaika
Katy Perry (2017)

Pussy Riot (2016)

Play Video
10 The Bad Touch

Bloodhound Gang (1999)
Play Video
Contenders that didn't quite make it into our Top Ten:
YMCA by Villiage People (1978)   Play Video
Anaconda by Nicki Minaj (2014)  Play Video
Girls On Film by Duran Duran (1981) Cut Version Play Video
You Think You're A Man – Divine (1988)   Play Video
Outside by George Michael (2006)   Play Video
Beautiful Trauma by P!nk (2017)    Play Video
M.I.L.F.$ by Fergie (2017)    Play Video
The English Mansion's Kinky Top Tens
Take a look at our other musical Top Tens dedicated to all things kinky
~ to be included the rules are: they must be big hits or tracks from internationally well-known performers.