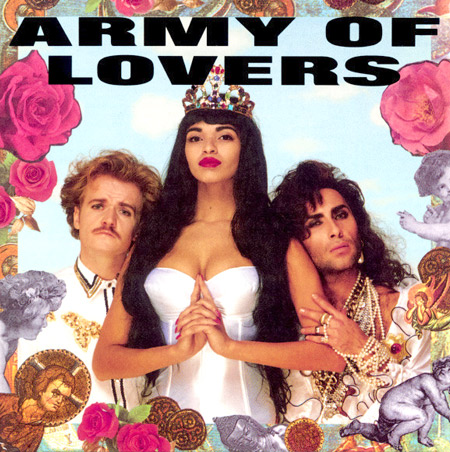 Welcome to The English Mansion's
Subversive Top Ten
Our musical Top Tens dedicated to all things kinky
The Sexual Revolution… it's been a long time coming and we're not there yet but there have been some fabulous and valiant trailblazers. So we're celebrating the avant-garde artists, the enlightened pioneers and radical firebrands who all played their part and used music to change the world.
All the songs in this Top Ten represent significant moments of this revolution – when the underbelly took on the mainstream and won; and the status quo was challenged and changed forever! It's a subversive and perverted revolution addressing: fetishism & bdsm; cross-dressing, gender bending/transgender notions; queer (lesbian, gay & bi) pride & politics;

sex for pleasure; feminism & women not in a passive sexual role for male pleasure or purely procreation but enjoying their bodies and sexualities.
My number 1's are joint tracks from Army of Lovers a Swedish '90s "euro pop" band, whose work beautifully embodies all of these different sexual revolutions and in such a joyful and inclusive way. Their name is taken from the documentary 'Army of Lovers, Revolt of the Perverts' & 'The Sacred Band of Thebes' (a troop of soldiers made up from 150 pairs of male lovers who formed an elite force of the Theban army in the 4th century BC.) Their songs were the pervy anthems of my early fetish clubbing days.
The release in 1983 of Relax by Frankie Goes To Hollywood marks a key moment in the history of pop, with its direct sexual references and overtly gay ones at that; while its original video was set in a decadent gay fetish club with allusions to 'erections, cum & watersports'. It was subsequently banned which inadvertently turned it into a massive hit and it went on to sell two million copies in the UK.
While George Michael, "Yes, I've been bad", having been ludicrously arrested and outed for having sex with an undercover police officer in a public toilet just 'owned it' and then wryly threw it right back at the LA Police Dept. in his fabulous satirical track and video, Outside.
It's hard to get it now because nothing here seems that outrageous but back in the day many of these videos/songs were banned outright or only allowed to be shown late at night. (Except Sex Dwarf which was declared to be pornographic, (it was actually a parody of 'hetero' porn and sexual hypocrisy) the police actually confiscated copies of it and it remains prohibited even today.) The mainstream have however, moved on from being outraged by Madonna to cheering on Conchita and that has to be something to celebrate.
Contenders that didn't quite make it into our Top Ten:
Tainted Love by Marilyn Manson (2001)  Play Video
Chaika by Pussy Riot (2016) Play Video
I Kissed A Girl by Katie Perry (2008) Play Video
Nancy Boy by Placebo (1996)  Play Video
Born this Way by Lady Gaga (2011) Play Video
Strangelove (1987) or Master & Servant (1984) Depeche Mode Play & Play
You Think You're A Man by Divine (1988) Play Video
I Want To Break Free – Queen (1984)  Play Video
The English Mansion's Kinky Top Tens
Take a look at our other musical Top Tens dedicated to all things kinky
~ to be included the rules are: they must be big hits or tracks from internationally well-known performers.