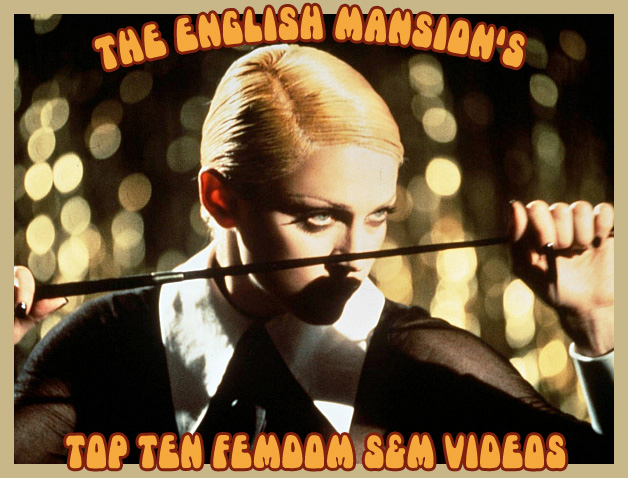 Welcome to The English Mansion's
Femdom S&M Pop Video Top Ten
Our musical Top Tens dedicated to all things kinky
It's Pervy Poptastic!
Welcome to another of The English Mansion's Perverted Top Ten Music Charts – this time we're featuring pop videos with a visual femdom/S&M theme, so not necessary the lyrics. (And, all the Mansion charts only focus on mainstream or well-known performers.) Interestingly, this was almost a chart of all female artists and they're mostly pretty edgy tracks with attitude. All from the 90s onwards, as I couldn't find anything suitable before Madonna's Erotica in 1992, however,  the revolution is most definitely here…and these days it's less "Girl Power" & more "Pussy Riot!".
1. Madonna – Erotica 1992

2. Pussy Riot – Chaika 2016
I usually have a no "politics, religion or money rule" as I like our shared fetish bubble to a be an escapist wonderland – but feminist punk collective Pussy Riot are a special case, these courageous women have been badly beaten, assaulted and incarcerated for their feminist and political views. This new satirical video takes on the Kremlin, corruption and the criminal justice system.
3. Rihanna – S&M 2011

4. Die Antwoord – Rich Bitch 2009

This is a fabulous dark, parody of sexist rap videos with a subtle nod to another classic sexist institution with the bunny boy.
5. Spice Girls – Say You'll Be There 1996

6. Lene Nystrom (Aqua) – It's Your Duty 2003

7. Madonna – Human Nature 1995

"Express yourself, don't repress yourself…I'm not your bitch don't hang your shit on me. It's human nature."
8. Rammstein – Sonne 2001

9. In This Moment – Whore 2012

10. Bjork – Pagan Poetry 2004

OK so this video probably doesn't strictly fit the femdom S&M theme but it is full of female sexual power and energy and how Bjork manages to go topless and be pierced in a pop video without censorship is impressive.
A contender that didn't quite make it into our Top Ten:
Christina Aguilera – Not Myself Tonight

The English Mansion's Kinky Top Tens
Take a look at our other musical Top Tens dedicated to all things kinky
~ to be included the rules are: they must be big hits or tracks from internationally well-known performers.