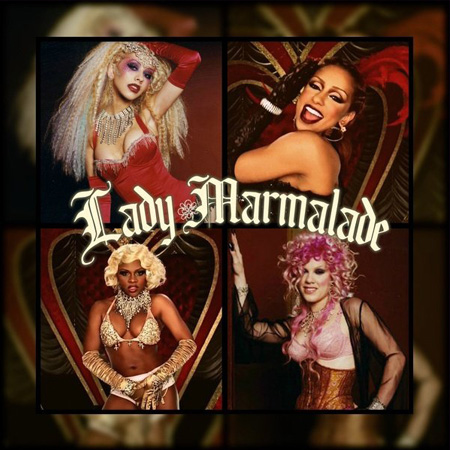 Welcome to The English Mansion's
Sex Work Top Ten
Our musical Top Tens dedicated to all things kinky

Not all the tracks in this chart are favourable – hackneyed pejorative tropes about sex work pervade (chiefly, the patronising and misogynistic notion that all sex workers are victims in need of saving); however, hits like Roxanne were to big to not include; and some of the songs are probably honest reflections of the industry like Street Life & When The Sun Goes Down. I have tried to counter these with other tracks with more considered lyrics including the rather brilliant Whore, which encapsulates how sex workers have become receptacles for the projections of societies own fears and ills surrounding sex.

In Baz Luhrmann's wonderful Moulin Rouge! to sidetrack the disapproving lyrics of Roxanne, he gave us an interpretation where the verse implies the singer is just jealous of his sex worker partner's liaisons – a very respectful twist. Walk on the Wild Side is infamous for its peek into the world of TS/XDressing pros, who were based on real sex worker's Lou Reed knew; while it's been strongly suggested (check out the lyrics) that this is also the inspiration for Freddie's Killer Queen.

1  None Of Your Business
Salt 'n' Pepa (1993)
Play Video
2 Whore

In This Moment (2012)
Play Video
3 Roxanne &
El Tango De Roxanne

The Police (1978)
or Moulin Rouge! (2001)
Play Video
4 Lady Marmalade

Patti LaBelle (1974) or  Christina Aguilera, Lil' Kim, Mya & Pink (2001)
Play Video
5   Seedy Films
joint place with
5   Sex Dwarf
(The Grid Remix)

Soft Cell (1981)
Soft Cell (1981)
PlayVideo

PlayVideo
6  Rent

Pet Shop Boys (1987)
Play Video
7  Private Dancer

Tina Turner (1984)
Play Video
8 Street Life
joint place with
8 Bad Girls
joint place with
8 No Diggity 
Randy Crawford (1979)
Donna Summer (1979) Blackstreet ft. Dr. Dre (1996)
Play Video
9 When The Sun Goes Down

Arctic Monkeys (2006)
Play Video
10 Killer Queen
joint place with
Walk On The Wild Side

Queen (1974)
Lou Reed (1972)
Play Video
Other contenders that didn't quite make it into our Top Ten:
Big Spender – Shirley Bassey (1967)   Play Video
Honky Tonk Women – The Rolling Stones (1969) Play Video
Charlotte the Harlot – Iron Maiden (1980) Play Video
Ain't No Rest For The Wicked – Cage The Elephant (2008)   Play Video
Diamonds Are a Girl's Best Friend – Marilyn Monroe (1953)   Play Video
Skin Trade – Duran Duran (1986)   Play Video
The English Mansion's Kinky Top Tens

Take a look at our other musical Top Tens dedicated to all things kinky
~ to be included the rules are: they must be big hits or tracks from internationally well-known performers.