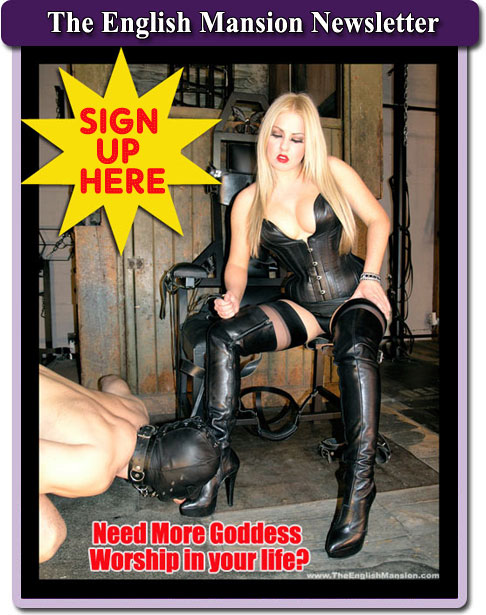 Sign Up for the free Monthly Femdom Newsletter
The English Mansion's official communiqué including: New Mistresses & upcoming movie news. Informative & entertaining femdom articles & blog entries. The newest hottest trailer posters. All delivered painlessly to your email inbox, every month.
Free Femdom pictures and news from Mistress Sidonia and the World's biggest classic female domination, FLR, sissy and xdressing film resource. Where Women rule and men are the lowly slaves, eager to please and find their new position in this Female lead New World Order.
Be part of the growing English Mansion community
Sign up here to receive this quality, free monthly newsletter - simply fill in your email address below:
The English Mansion is the leading provider of Femdom films, clips, 3d VR and galleries. There are over 100 of the Worlds's finest Dominatrix showing off their real life sessions and exploits. Extreme Mistresses enjoying pegging sluts with their big strapons. BDSM bondage and using errant males as their Femdom sex slaves. Dominas dominating, punishing, tie and teasing, ruined orgasms and anal prostate massage all for the pleasure of the superior females. While the men are locked in chastity, spanked, whipped and cuckolded.
We respect your privacy and will NOT share your info with anyone.
You can opt out at any point, just follow the simple instruction on the bottom of the newsletter.
We will not contact you more than 14 times within a 12 month period with our free Femdom newsletter