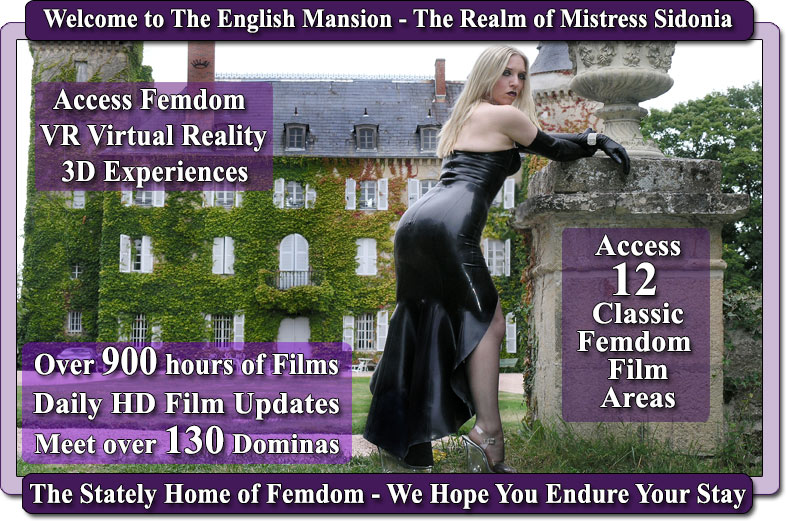 Femdom Sex, Extreme BDSM & Fetish HD Films
"The Web's No.1 Hardcore Femdom Movie Site"
Members Access All Areas
Over 800 Hours of Femdom Films
Access to 12 Specialist Femdom Areas & 100 Real-life Domina
Genuine Session Footage ~ Fantasy Stories ~ POV Movies
Over 3000 Movies plus VR 3D Experiences
Download or Stream ~ Totally Exclusive Content ~ No Recycled Content
"The Best Femdom Site We've Seen - It's got everything!" Porn Reports
Daily HD Film Updates
Every Day a New & Exclusive HD Movie
plus Double Weekend HD Movie Updates
that's over 3.5 Hours of New Footage each Month
& Regular Photo Updates
"Recommended for those looking for great femdom!" Rabbits Reviews
---
Access to 12 Specialist Femdom Film Areas

" One of the Largest Femdom Movie Archives on the Web"
Inside there are more than 3000 individual movies - over 800 hours of exclusive footage - organised into 12 specialist Femdom areas including: Classic Mistress & slave; Uniform & Prison; Male Sex slaves & Cuckolding; Encouraged Bi & Humiliation; Riding & Ponyboy; Medical & Rubber Fetish; Encouraged Crossdresser Gender Transformations; Slavegirls & Parties; 247 Real Life slavery; Domestic & Office Femdom; Shoe/Foot/Leg worship & Fetish Wear.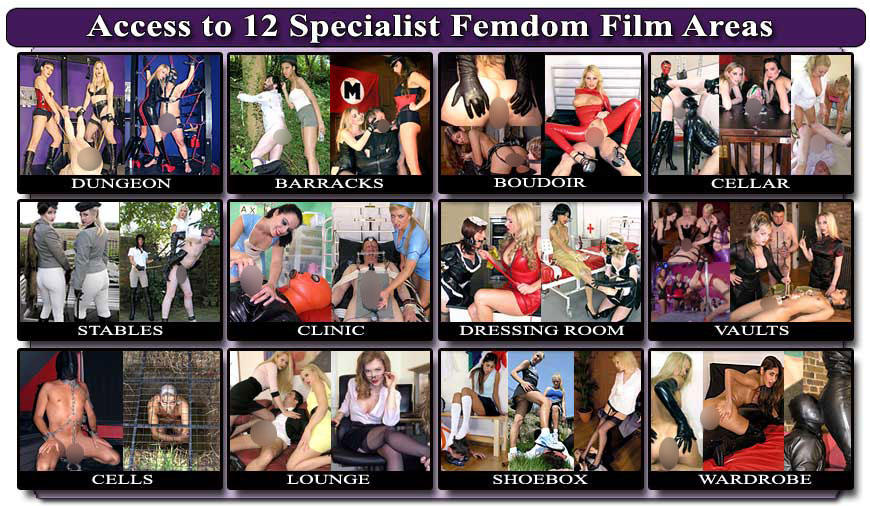 Watch Real Session Footage of Mistresses & their slaves, Fantasy Stories based our Mistress's personal sexual fantasies or dedicate yourself to a Mistress and let her talk directly to you in our POV point of view movies.
PLUS
Meet over 100 Mistresses - Dominatrixes, Dominant Women, Switches & Slavegirls, all of whom appear inside at The English Mansion; find out about their femdom specialities & Mansion movies.
---
Access to Femdom VR - 3D Virtual Reality Experience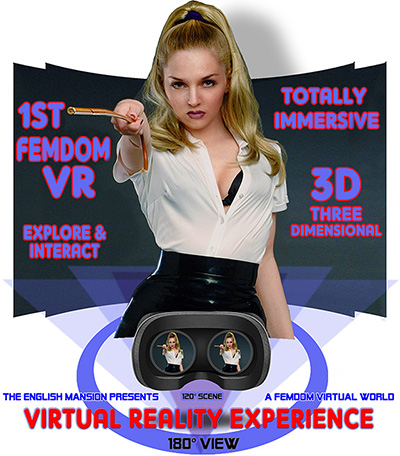 Inside you will also have access to the first ever classic femdom Virtual Reality, an immersive video experience, with similarities to the 3D films you have watched at the cinema but more personal and engaging. You enter a three-dimensional setting which you can explore and interact with – you are no long a passive observer but part of the action.

Our new & exclusive Femdom Virtual Reality Experience will place you literally in the room with magnificent dominant women. It's a totally mind-blowing, immersive 3D femdom encounter. You will be closer than ever before to your favourite domme, you can serve and worship them in person and find out what it's really like to be at the feet of a beautiful truly dominant woman.
---
Access to Photo Galleries with over 30,000 Photos
Over 30,000 large high-res Photos from our Femdom Photostories, Mistress Portraits & Genuine Session galleries. Download individual galleries conveniently & fast as zip files or watch them as a slide show. We update a new gallery with every new HD movie added to the site.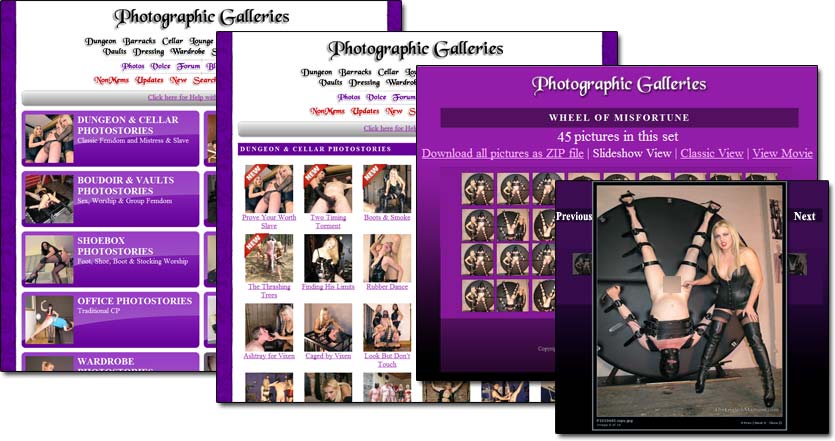 ---
Unique Movie Search Facilities - Find What You Want Fast!

With over 800 hours of movies we have developed unique search facilities for our members to help you find what to you like, fast! Plus easily find what's new and create & save your own page of favourite movies.
There are 4 ways to search our Huge Movie Archive: By Keywords/Movie Name; By a Mistress's films or view her info;
By Tags in the Search Cloud; & By Button Categories - Costumes/Action.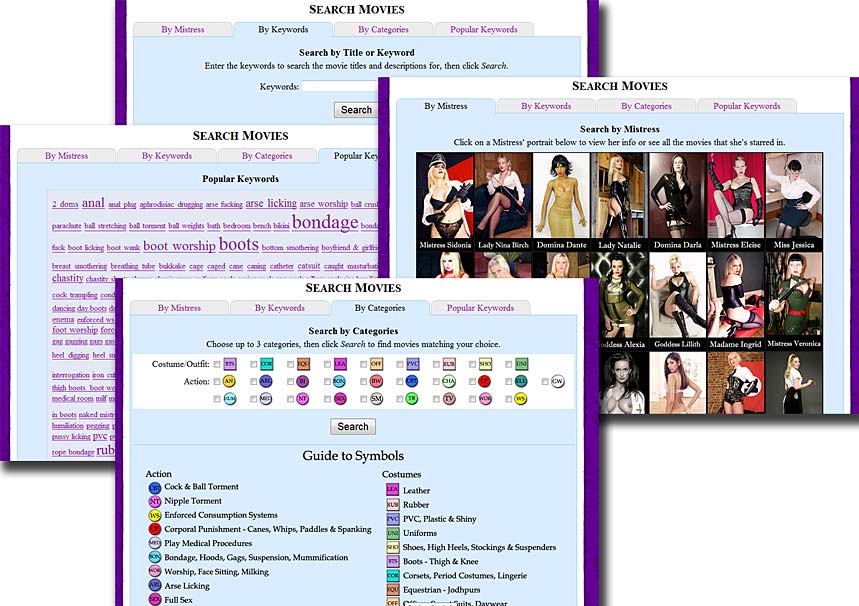 "The Web's No.1 Hardcore Femdom Movie Site"
The English Mansion Customer Guarantee
Cancel Anytime ~ Keep Access for Period Paid ~ Keep Anything You Download
100% Safe, Secure Billing ~ Your Privacy Guaranteed
Choice of Payment Methods
Helpful and Efficient Customer Support
We Aim to Reply to Enquiries Within 24 Hours
Over 18 Years of Experience & Customer Satisfaction
We Promise a swift and easy cancellation process and are committed to protecting your privacy online. The English Mansion promises complete discretion we will not contact any of our members under any circumstances unless replying to an enquiry made by them. We do not share the information that you have provided to us with third parties or store any billing information.

In just two minutes you can be inside...
JOIN HERE