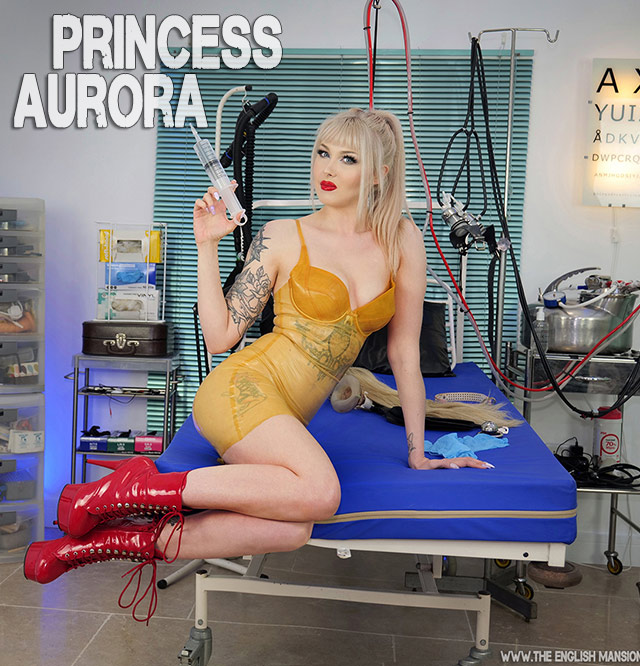 Meet Resident English Mansion Dominas
The English Mansion always invites the world's top dominas to come over, stay and play! We thought we should salute the very best of them and show you some of their finest moments. So here's the fabulous Princess Aurora…
Top Dom: Princess Aurora
Princess Aurora is a beautiful, talented young prodom, fetish model, event organiser and kink producer. As a domme she has many unique sides: the super cute but strict academy girl; the frou-frou spoilt princess; or the stunning stylish domina who loves to wear classic lingerie, with fully-fashioned stockings or top-to-toe shiny latex. Whatever the persona she always puts men in their place, at her feet and submitting to her cruel whims.
Don't be fooled by her sweet exterior, this heavenly faced, lithe and graceful young lady specialises in 'mean girl humiliation'. And, she is one hell of a demanding bratty princess who will discover your secrets and laugh while using them against you! She's adept at role-play and humiliating verbal all the while teasing you and breaking down your will with her stunning body.
Aurora particularly adores Xdressing scenes so if you serve her you might find yourself in panties or dressed in the frilliest of lacy dresses. Lastly, she's also a serious nylon fetishist with a wardrobe of sheer pantyhose, fully-fashioned stockings and classic '50s lingerie.
Princess Aurora is a prodom based in Manchester, North UK and also runs the Mean Girls Party – a night of humiliation, CFNM & enforced sissy dressing at the hands of a group of beautiful young dommes. So if you're prepared to leave your dignity at the door and want to disgrace yourself all for their amusement, you should check this event out.
As a talented and highly creative fetish content producer she has carved out a unique niche within the fetish world which she showcases in her excellent clips stores and on Only Fans – so don't miss out!
We highly recommend you check out all of Princess Aurora's links  HERE
So here's just a little taste of the divine Princess Aurora in action…

See also other ~  English Mansion Top Doms:
Mistress Courtney
Miss Suzanna Maxwell
Miss Vivienne L'Amour
Princess Aurora
Mistress Nikki Whiplash
Mistress Lola Ruin