The Revenge of Adorable Gwen – Now Completed


All eight instalments – each with a unique femdom artwork alongside an exclusive new accompanying serialized story are now showing inside The English Mansion Members' Area. You can find them up in Sardax's Garret.
Bondage aficionados with be familiar with John Willie's infamous fetish comic book – The Adventures of Sweet Gwendoline. Alongside Sweet Gwen & Dominatrix U69 was the dashing Sir Dystic D'Arcy. The moustachioed villain who leaves all the damsels around him in 'distress'; well, bound and gagged in the most delicious and fiendish predicaments.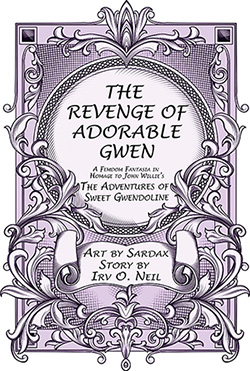 The Tables Have Turned
In a new imagining, by internationally renowned fetish artist Sardax comes a femdom fantasia in homage to John Willie – The Revenge of Adorable Gwen.  A series of eight femdom illustrations where 'Sir D'Evious' finds himself at the mercy of Sweet Gwen. She is no longer a damsel in distress but his new Mistress! Each illustration is novelised by highly-regarded erotic fiction writer Irv O. Neil.
So don't miss out, join here to find out about the fiendish predicaments and humbling humiliations Gwen has in-store for Sir D'Evious.