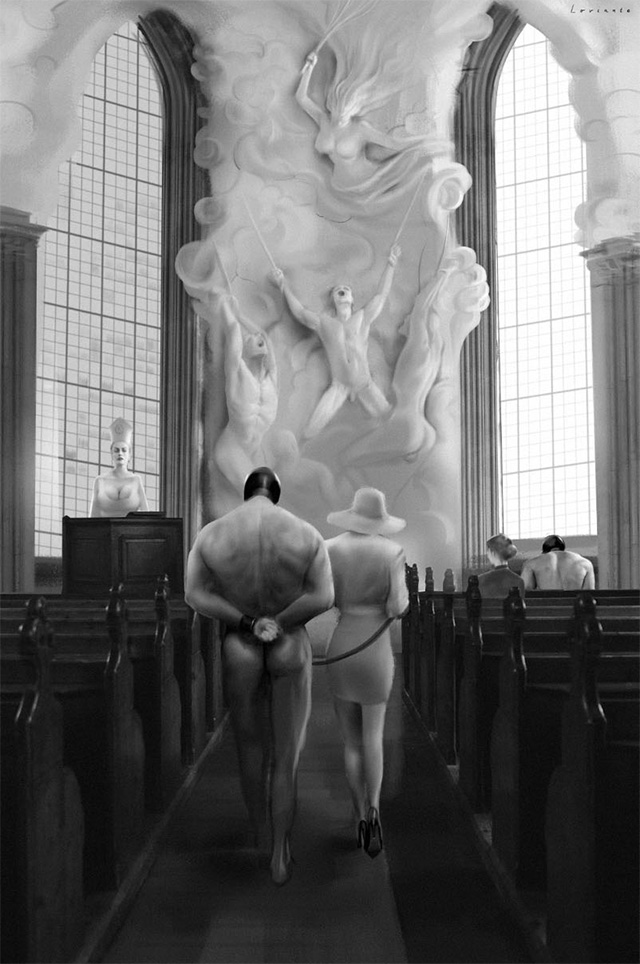 Loviante ~ Glorious Femdom Art
Loviante is a profession artist and fetish illustrator who produces glorious femdom art. Delicate, black and white fantasy scenes, set in a bygone era and seeped in an air of Deco decadence. They detail superior aloof ladies in a world where women rule supreme. The men exist as objectified servants and slaves, always naked, exposed and vulnerable. Often bound in 'Heath Robinson-esque' elaborate and ingenious torment contraptions.
He uses interesting composition shapes for his pieces. (So make sure you open up the images in the gallery below.) With his subjects depicted in almost hyperrealism aided by his amazing use of depth; you feel like you are looking into his work, it has a 3D quality. Importantly enhancing the story he is telling in each of his unique works. This is truly what makes his art so glorious, as each piece tells such an intricate femdom story. You feel the players come alive, you fill in their back stories and imagine what the rest of their day must have been like.

Loviante's work does features more erotic scenarios and submissive females but I have chosen a selection of his femdom related art to showcase here.
We just adore his work here at The English Mansion and can't recommend it enough!
Please show your support for his work by following here on
twitter.com/loviante
Loviante ~ Femdom Gallery