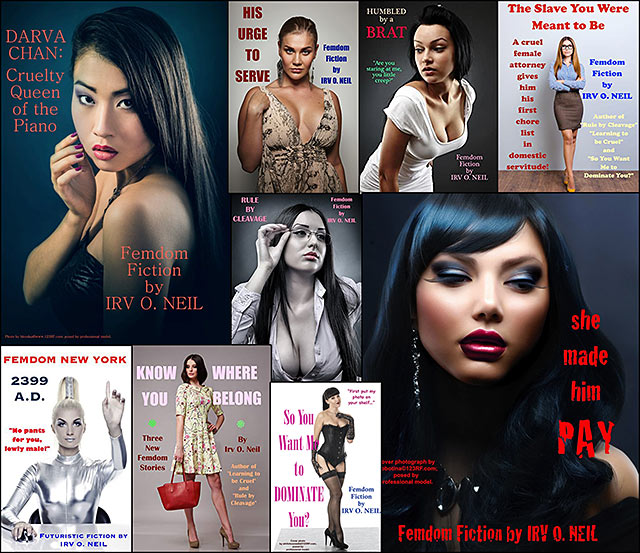 Irv O Neil: Femdom Wordsmith
Irv O. Neil is a highly-regarded writer of sexy adult fiction based in the US. He has been professionally writing erotica since the 1970s alongside working as an editor of adult magazines, notably the excellent Leg World. He's written published novels, hundreds of short stories, interviews, articles and X-rated feature films, including an erotic thriller Other Men's Wives for the Playboy Channel. Hell, he's even appeared as a (non-explicit) extra in a few adult films and magazine photo stories!
With the advent of the internet changing how we all view print & film media, Irv has moved onto the web and now publishes his own line of ebooks on Kindle at Amazon. He has quite a leaning for Femdom with many of his stories focusing on ladies sexually dominating and controlling men. One of his first ebooks on Kindle was Learning To Be Cruel. And there are many more titles available. You can find all his femdom erotica in the Kindle stores on Amazon sites worldwide. Titles Here

The femdom community is a small hamlet in the wider world, so unsurprisingly I was already aware of the femdom fiction of Irv O. Neil. However, I've only made a proper acquaintance with him recently when The English Mansion was given access to eight femdom illustrations by the renowned fetish artist Sardax. Irv put pen to paper to write an  accompaniment to each of the images and we were blown away by his brilliant imaginings and wonderful 'melodramatic' and apt comic book style. This collection of stories and images, The Revenge of Adorable Gwen, is a magnificent homage to John Willie. The tables have been turned and Sir D'Evious finds himself at the mercy of Sweet Gwen who is no longer a damsel in distress but his new Mistress! The illustrations and accompanying new stories can be found exclusively inside our members' area.
This isn't the first time Irv and Sardax have collaborated together. Sardax previously illustrated a number of Irv's stories in the classic fetish magazine Leg Show and together they have worked on Tamara, Eternal Dominatrix.
Erotica Is My Trade is Irv's excellent blog featuring regular posts on: the history of erotica; pulp fiction & fetish art; adult magazines & websites; and where you can find out more about his publications. Or as Irv puts it,
"I muse about things that interest me and that are part of my life as a writer of sexy fiction. Call it erotica, call it porn, call it smut – it's all sexual fantasy brought to life for audiences to enjoy, whether you read it on a screen or in a book, or watch it on a DVD or streaming video."
He's also available as a freelance writer, so get in touch if you have an adult project you like him to work on.