A Brief History of Club Rub
Club Rub was a glamorous, sexy and super friendly fetish club that ran every month from 1996 to 2017, over 21 years in and around central London. It was conceived by the marvellous Miss Kim who after a short 2 year partnership running The Rubber Nipple Club branched out alone. The burgeoning Club Rub astutely filled a gap in the fetish market for a sizeable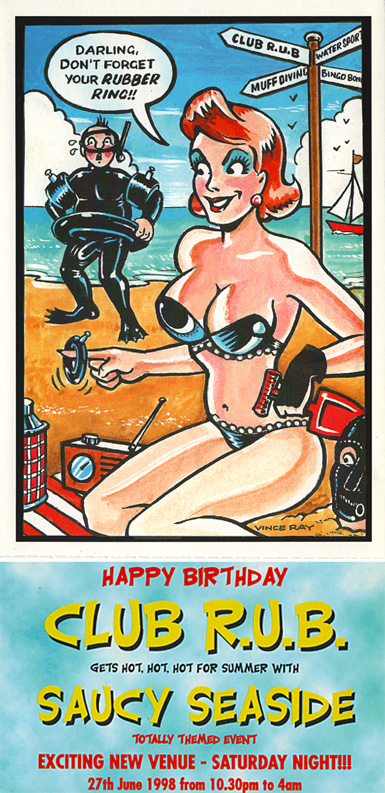 club but one offering a more intimate environment than the huge warehouse fetish events; while also managing to bridge the scene gap between the players and the fetish fashionistas. All with kinky impresario Kim at the helm as the consummate host and party organiser.
Its dress code focused more on stylish fetish glamour with an emphasis on rubber-wear and there was usually a theme for each event like MAlice in Wonderland or Gender Benders giving creative kinksters an opportunity to impress, though any fetish wear was acceptable. The music was sexy house and pumping club classics from regular DJs Irish Pete and Rob Parish but it also headlined guest DJs with Kim managing a major coup roping in Boy George for one Xmas bash.
The club had a small play area with its infamous grope box, gorgeous resident dungeon Mistresses there to whip up some sexy fun and showcased fabulous cabarets and performances. It was also famed for its Annual Rubber Awards which included categories such as: Best Creative Rubber Outfit, Best Rubber Uniform, Best Rubber Couple & Best Full Rubber. Winners receiving valuable vouchers from the cream of London's rubber fashion designers. The club traversed quite a few venues over the years but is possibly best remembered at Dukes in the City of London. Back in my clubbing years I was a regular at Club Rub and always had an absolute ball there, it was a great club!
Some of
Club Rub's Fabulous Fliers
Click on any image to start slideshow
Above – Renowned artists: Vince Ray, Trevor Watson, Helen Jones, Michael Lake McMillan, Maria Coletsis, Marcus T, Zac Zenza, PKK, Penn, Valerian de Thorianie & John Chiltern.
A Continuous Fetish Art Exhibition

To help promote Club Rub Kim enlisted various alternative artists and invited each to create a series of six club fliers, two artists a year, producing over two decades a plethora of wonderful & singular illustrations, photographs and artworks. So Kim should also be applauded for the vast number of avant-garde artist she has supported and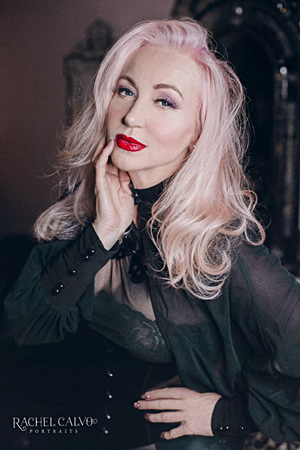 promoted both within the club and in creating its publicity; not forgetting the clubs influence on fetish fashion which should not be under estimated. (I was even once asked to produce a set of fliers and of course chose powerful women as the theme.)
What I adored about the Rub fliers, which would arrive in the post along with a newsletter (this was before the domination of the digital world and Kim licked a lot of envelopes), was that they were designed to be used as actual, tangible postcards, they had perforations so you could tear off the bottom bit with the club details and then use them in the post or collect them to pin up on your wall. A little bit of art for all to enjoy, an ongoing fetish art exhibition that continued for 21 years 🙂
Miss Kim must be commended for what she accomplished with Club Rub in an industry that isn't pervy or female friendly. She is a highly talented, intelligent, super savvy woman whose hard work and force of personality has led to her success. She's also gorgeous and hugely creative collaborating with many artists with herself as the model, over the years producing amazing images. Some of these concieved for her 'labour-of-love project' Hoodlovers.com.
Bishopsgate Institute Library Archive

So in recognition of Miss Kim's achievement and it should be lauded, the Bishopsgate Institute has decided to record the history of Club Rub. The Bishopsgate Institute's Special Collections and Archives are home to a range of materials that document the development and history of LGBTQ communities and alternative sexuality in Britain. All housed in a beautiful Victorian building in the heart of London (literally opposite Liverpool St. Station) and you don't need to join the library as all are welcome to go and visit its collections. Go there, check it out!
To celebrate the arrival of the Club Rub archive a special evening held with invited guests to explore the archives through a pop-up display including an exhibition of some of the flier artworks. And to hear more about the history of the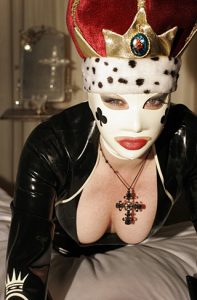 club with short talks from those who have been part of the community, including club promoter Miss Kim, Marnie Scarlet & Irish Pete.
Queen of Clubs
Club Rub may have sadly come to an end but Miss Kim is still partying away now running the UK's only total Rubber event Rubber Cult, she also sets up regular Mistress Workshops and even delves into some classic prodomming, see here Miss Kim Rub.