The Mansion's Summer Femdom Party 2022

– 2nd Half

Wow What A Day!
We had an absolute ball at our Summer Femdom Party with no less than six stunning Mistresses in attendance: Mistress Nikki Whiplash, Mistress Sophia Sahara, Mistress Sandra, Fetish Nikki, Mistress Lola Ruin, & Mistress Sidonia.
All captured by discreet roving cameras – allowing our members the opportunity to peek inside The English Mansion and see what happens at one of our high-protocol summer kinky soirees. Yes continuous action footage from inside a real femdom party.
Late Afternoon (see here for the early part)
The party continues in the dungeon as Mistresses Sidonia, Lola, Sandra and Sophia Sahara take their sissy sluts for some pole dancing action. They are going to put on a marvellous show, as the superior ladies cajole, excite and humiliate their dancing, the subs trying to impress, pulling out all the stops as they prance, spin and beg for attention. When the Mistresses have seen all the action, they declare a winner and demand a sexy show from the sluts, supervising some special cock teasing, making sure the winner is allowed to shoot a big cum load, whilst the loser is humiliated.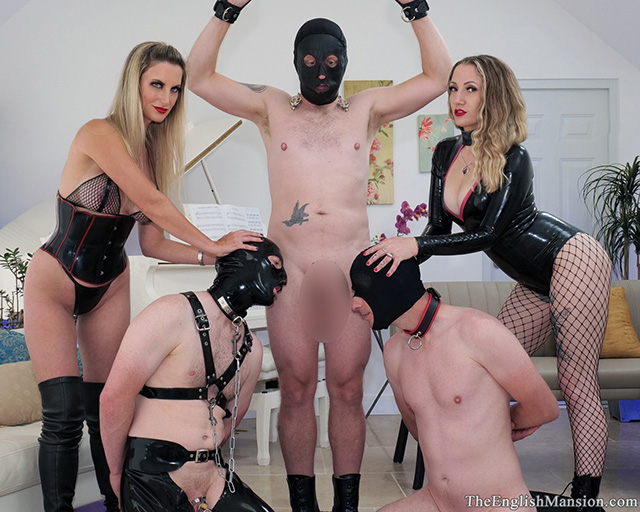 Meanwhile… in the lounge as Mistresses Whiplash and Nikki have decided to supervise a sexy bi session, using their big dicked bull to provide the hardness and the two beta subs eager to follow direction and please. They feed the throbbing member into the sluts mouths, one by one , seeing who is doing the best job. They are then told to double please, the dominant women making sure their mouths are going deep and sensual. The best sucker is then rewarded with some sucking on his cock, as the loser strokes and sucks the bull to completion, to the amusement of the ladies.
The party finishes outdoors as Mistresses Sidonia, Whiplash, Sophia Sahara, Lola and Nikki relax in the hot tub. Sidonia reads through the slaves' report cards, ranking their scores and deciding appropriate punishments for the losers and winners. Subs are dragged into the tub for a wet spanking and paddling, humiliated and put in their places. The dominant ladies then demand foot worship, the eager subs working hard to please. They also decide to have a little bi show in the tub with plenty of cock sucking as they supervise closely. The action is continuous and *hot* with trampling, wet games and lots of fun and laughter, to round off an amazing day!
The Mansion's

Summer Femdom Party 2022

2nd half of the day
So don't miss out, the party's started inside The English Mansion.