Circus Maximus: Atlantis ~ Fetish Play Party
Last Saturday, I attended Atlantis: Circus Maximus's Fetish Play Party held at Celestial Studios in Derby, Midlands, UK. It was a hot night of kinky debauchery with sirens, mermaids, mermen, sailors, seamen & sea gods – yep, the costumes were impressive. Plus there were tentacles protruding from just about everywhere!  The 'hostess with the mostess' the awesome Miss Vivienne L'Amour, looking entrancing as a sea Siren, was the Mistress of Ceremonies. Presiding over and performing in the evening's very full line-up of entertainments. There were dazzling visual performances including a hair suspension striptease, as well as depraved and filthy stage acts.  The venue was dressed to impress for an undersea vibe but it's already phenomenal with two floors of unique play spaces including dungeons, prison, medical room, boudoirs, suspension rigs and a hot tub. A few familiar Mansion faces were in attendance: Mistress Nikki Whiplash, Princess Aurora, Miss Suzanne Maxwell, Little Rabbit, Miss Anna Elite and of course Miss Vivienne.

All club photos by the excellent @latexfashiontv 
The Electric Lady
I was on-hand at the party with my side show of electrical delights: "Get Electrified Ask Me How" 😉  Ready for the curious to roll up and try, including a number of more interesting toys like my Devil's Fork & Sparkle Whip. Or to attempt the infamous "Buzz 'a' Cock – Penalty Wire". A game where if you get a BUZZ you also get an electric zap. Dommes can play but wire up their subs to get the punishment or they can just make their subs play. We also had some fun seeing how many kinksters we could get in a 'static current daisy chain' – eight!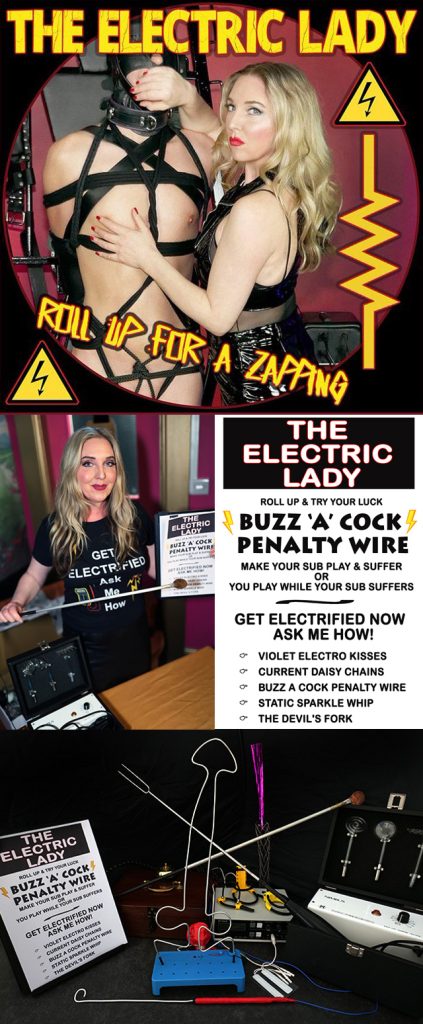 Circus Maximus Events 2022
Don't Miss Out on more kinky fetish party events planned for this year by Circus Maximus @CircusMaximus21  at Celestal Studios, see below for the dates & themes. Also Here